When thinking about wreck diving in Micronesia, many do not immediately think about the WWII wrecks of Palau, but usually automatically think about the fantastic WWII wrecks of Truk (Chuuk) Lagoon, while Palau is "better" known for its incredible shark action.
But many people are completely unaware of the fact there are many WWII wrecks found in Palau and wreck diving Palau is so much better than many people know.
During World War II more than 60 Japanese ships were sunk around Palau. Some of these WWII wrecks in Palau are part of the "Lost Fleet of the Rock Islands," and that is not even counting all the WWII plane wrecks that crashed at sea during aerial combat.
While not all of these wrecks remain today, there are still a multitude of WWII wreck dive sites to choose from in Palau, many of which are considered some of the best wreck dives on the planet. Yes we said, it! The best on the Planet 🙂
The list below details some of the very best WWII (plane) wreck dives found in Palau so that you can target the ones that will give you the most thrilling experience according to your wants and needs.
When you want to dive some of the most amazing WW2 wreck dives during your next Palau dive trip, continue reading.
In this article, we will have a look at the following:
Palau's History during WW2
During World War II Palau and the other Pacific islands played an important role, as they were perfectly located to protect the already occupied regions in Southeast Asia. This war over predominance in the area between the Americans and the Japanese was mainly fought in the air.
The Japanese lost the air battle against the more powerful American Air Force, and their fleet consisting of war and supply ships was left unprotected and open to being attacked from above.
The Americans flew a series of air strikes on the Japanese fleet. The most important one of these was called "Operation Desecrate I," followed by "Operation Snapshot" and finally "Operation Stalemate II."More than 60 Japanese ships were sunk in Palau during the second world war during the strikes, and during the aerial combat, planes on both sides were lost at sea.
Also read: The ultimate guide to diving in Palau
Palau's WWII wrecks today
Of the 60 shipwreck wrecks initially sunk in Palau during World War II, many had been salvaged in the years following the war and sold as scrap metal to pay for war claims. Some have vanished, never to be found again, and remain to be just covered up to today. Some of them are, however, fantastic dives for divers of any experience level.
But still, many WWII shipwrecks remain to be visited today and are completely overgrown with hard and soft coral and form artificial reefs making them must do dives for history buffs and nature freaks alike.
Diving Palau's World War II Wrecks
Fortunately, many of Palau's WW2 wrecks lie in depths easily reachable to all levels of divers. While some of the wrecks are better suited for the more experienced divers, due to their depths, exposition to the currents or because divers can venture within, others are also suited for the less experienced amongst us, maybe making for a beautiful first wreck experience.
WWII shipwrecks in Palau you should dive
World War 2 shipwreck: The Iro Maru
The Iro Maru sank in 1944 during "Operation Desecrate 1". She took a direct hit to the engine room. This wreck now rests in an upright position at a maximum depth of 40 meters. Here length is 143 meters, and she has a beam of 17.50 meters. The deck is at around 25 meters.
The bridge and mast rise above the deck with the top of the mast at only 8 meters. It's forward and aft guns are in place. The dive is an easy one if you want just to check out the surface areas of the wreck. However, you should have more experience if you want to go deeper into the wreck itself and explore the inside of it.
Many fish can be found around The Iro Maru, including lionfish and clownfish, along with plenty of coral. Just keep your hands off the potentially dangerous ammunition that has survived from WW2 and is still strewn across the wreck.
More info about WWII shipwreck: The Iro Maru
Length: 143 m
Depth: 8m (tower) – 40m
Visibility: 10m – 30m
Experience level: best suited for more experienced divers
Current: None
World War 2 shipwreck: Amatsu Maru (Largest WWII wreck in Micronesia)
The Amatsu Maru is the largest WWII shipwreck in Palau, with a total length of 159 meters and a beam of 20 meters. The wreck lies at 40 meters deep, with the deck at 30 m. Due to its depth, it is better suited for advanced divers. The less experienced divers can stick to just exploring the outside of the wreck, while more experienced and confident divers can venture into the hull of this massive oil tanker.
This dive site is also referred to as Black Coral Wreck, thanks to all of the black coral trees that now cover the hull, creating a truly spectacular site. While exploring the inside, you can see electrical and radio equipment, and you will also notice that the stern is damaged from the explosions that sunk it.
More info about WWII shipwreck: Amatsu Maru
Length: 159 m
Depth: 30m – 40m
Visibility: 5m – 25m
Experience level: Advanced divers with wreck diving experience
Currents: None
The famous WWII Plane Wreck – Jake Seaplane
For a nice little change in your wreck diving, head over the Jake Seaplane. A fisherman found this WWII plane wreck in 1994 who saw it from the surface.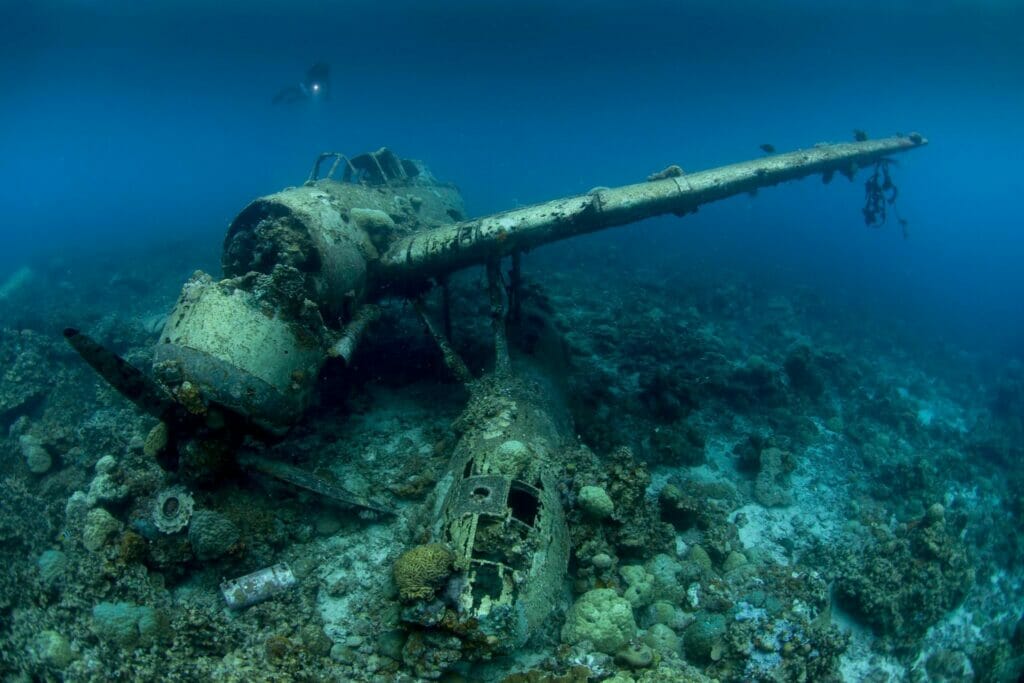 The Jake is a WWII Japanese Navy Seaplane, model Aichi E13A-1, and can be found just offshore of what was a seaplane base in WWII. The aircraft is 11 meters long and has a wingspan of 15 meters. It was a slow-flying reconnaissance airplane, and the Allies gave it the code name Jake.
The Jake is upright in 15 meters of water on top of a coral head. The Jake is mostly intact. The engine has fallen off but can be found close to the plane. The props do not show signs of being damaged suggesting the aircraft crashed during landing.
The tail section and a part of the wing pontoon are detached and located just a short distance away. The wreck has been completely overgrown with corals. Visibility on the high tide can be from 20-30 meters. Since it rests on a coral head, many different types of coral can be found at this site as well, including brain, lettuce, table, and staghorn corals, alongside plenty of soft corals too.
More info about WWII Plane Wreck: Jake Seaplane
Length: 11m; Wingspan: 15 m
Depth: 15m
Visibility: 20m – 30m
Experience level: Beginner
Currents: None
World War 2 shipwreck: The Helmet Wreck
This small supply ship was most likely confiscated in SEA during WW2. Its wreck was only discovered in 1990 and has not even been identified and named yet, so the nickname Helmet Wreck was given to it, thanks to all the helmets found inside of it.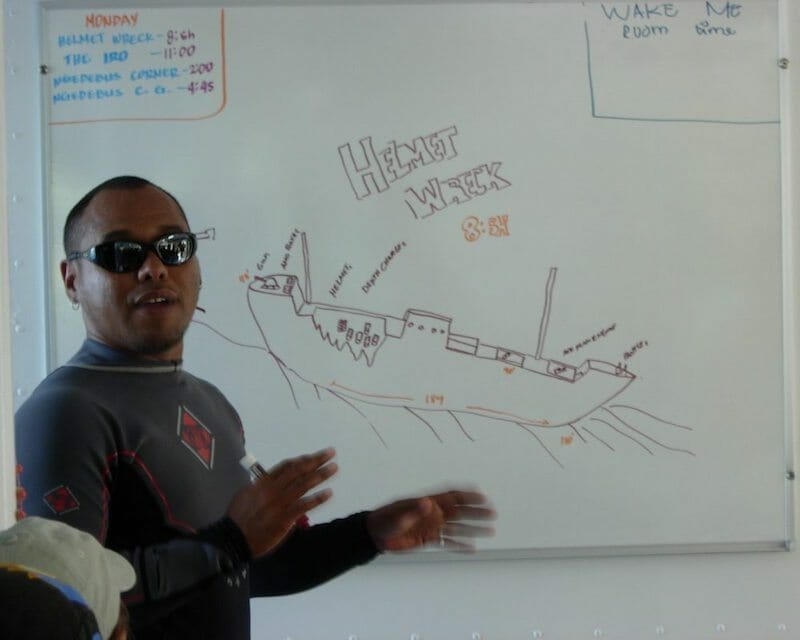 This wreck is found in a nearly vertical position at depths that range from 15 to 35 meters. There are many interesting things to be found throughout this wreck, including gas masks, ammunition, and rifles. In fact, many areas of the ship are still intact and in pretty good condition. Just use caution while exploring.
More info about WWII shipwreck: The Helmet Wreck
Length: 58m
Beam: 10m
Depth: 15m -35m
Visibility: can be tricky due to silty bottom
Experience level: beginner with some experience
Currents: None
World War 2 shipwreck: The Chuyo Maru
The Chuyo Maru is yet another ship that was bombed during WWII and sank in 1944 during Operation Desecrate. This incredible wreck site features a variety of marine species that include soft corals along the deck and rails, as well as gorgeous black coral. You will also encounter lionfish, translucent shrimp, oysters, clams, pipefish, eels, and more.
The maximum depth at this site is 33 meters, and advanced divers with wreck diving experience will find this wreck perfect for exploring.
A variety of fascinating marine animals, such as cuttlefish and octopus, can also be seen here, so take some time to take note of the creatures who call this site home after exploring the plane itself, which features a small bomb in the cockpit, radios, and ammunition. Although you may be tempted to touch any ammo you find, these can be very dangerous, so keep your distance.
More info about WWII shipwreck: The Chuyo Maru
Length: 89m
Beam: 12m
Depth: top of tower 12 m, 20m – 33m
Visibility: 10m – 30m
Experience level: AOWD with wreck diving experience
Current: none
Other World War 2 Plane Wrecks – The Zero Fighter
During the air battles of WW2, planes on both sides, American and Japanese got lost at sea and today form fascinating and unusual wreck dive sites. The Jake might be the most famous and suitable for scuba diving, but at least one other plane wreck in Palau deserves to be mentioned here. In just two meters of water on Ngaremediu Reef, a hard-coral reef rests the Zero Fighter.
This Mitsubishi A6M "Zero" was one of Japan's most powerful fighting planes during WWII. Besides the plane wreck, there is not much else to see, but it is definitely worth a quick stop and a snorkel tour on your way back from the dive sites.
Length: 9m; wingspan: 12 m
Depth: 0m – 2m
Visibility: Unlimited
Experience level: Snorkeler, Novice
Current: none to moderate
As you can see, Palau's WW2 wrecks offer a wide choice for every diver, from the beginner to the very experienced wreck dive fanatic, and even snorkelers.
Who knows what other wonders will turn up in years to come since not all ships sunk during the fierce battles in Palau have been recovered yet. Maybe Palau will even expand its already fantastic repertoire of WWII wrecks with yet another addition or two, maybe for the tekkies out there?
What is your favorite Palau wreck dive? Let us know in the comments below.
Please feel free to contact us directly if you would have any questions. We love to hear from you.