10 Amazing Palau Points of Interest You Should Visit When On Palau
Besides world class scuba diving Palau points of interest include many terra firma "attractions" you should see when you visit Palau. Palau is an island country nestled in the Pacific Ocean and consists of over two hundred different coral and volcanic islands.
Tourism in Palau is centered around scuba diving and snorkeling, which both are outstanding, but there are a lot of other Palau points of interest you should see.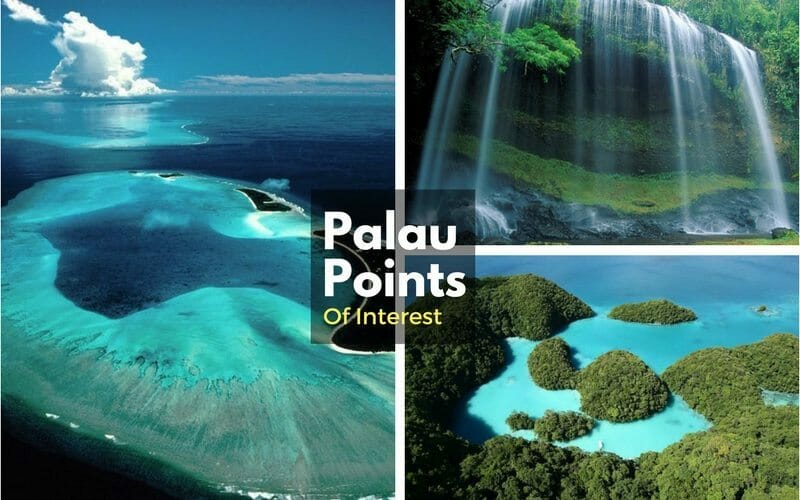 Many people travel to Palau for relaxation, fun in the sun, scuba diving and other maritime adventures, but an immense amount of historical sights can also be seen as well as many points of cultural interest.
During the Second World War, Palau was in the center of a battle arena for control of the Pacific. As such, there are many different relics and historical sites that you can visit. If you have plans to visit Palau and want to know more about its past, then continue reading to find out more about the most amazing and points of interest in Palau you should visit.
One great way to explore the top side of Palau is by getting into a rental car and drive around the island, to visit the different points of interest, and there are many! You should probably plan two days to go and see as many of the stunning sights as you can during your visit to Palau.
In this article, we will tell you where you can find the best Palau points of interest and how to get there from Koror. There are, of course, some POI's that can only be reached by boat!
Click on one of the Palau points of interest below to learn more.
Palau points of interest that can be visited by boat:
Palau points of interest in Koror:
Palau points of interest in Babeldaob:
Peleliu Island: Bloody Nose Ridge and 1,000 Man Cave
Another important set of sites from the battle for Palau in World War II, Bloody Nose Ridge, and 1,000 Man Cave can both be seen through the Peleliu World War II land tour offered on Peleliu Island.
Bloody Nose Ridge garners its name from the fact that Marines during the war had to pass through here during the conquering of the island; a high number of casualties occurred due to the nature of the terrain, slowing their movements. The 1,000 Man Cave is part of a system built by the Japanese to fortify themselves on the island and repel allied forces.
Read more about the battle at Peleliu Island
Throughout Peleliu Island, many tanks and other relics can also be seen in their final resting places. In addition to this, the tour guides report that a significant amount of live ammunition remains in place off the beaten path, so travelers are advised to stay close to the tour guides. While in Palau, you can enjoy the sights and sounds of nature's beauty, but the historical events and artifacts on the islands should not be overlooked.
Location: Peleliu Island, Palau
How to get to Peleliu Island?: 70 minutes Speedboat ride from Koror (weather permitting)
Opening hours: every day
Entrance fee: The permit for Peleliu is $30.
Things to see: Historical battle site from WW2, complete with relics
Duration of visit: half to a full day. A visit can be combined with two divins around Peleliu
Rock Islands: Palau Milky Way
Palau Milky Way, Rock Islands
You have probably read all about the fantastic diving, snorkeling, and kayaking in and around the Rock Islands and the world-famous Jellyfish Lake, and since you here already, you should take advantage of nature's spa, the Milky Way. This beautiful bay with its milky white water is nestled within the Rock Islands. The warm and silky water is very inviting, but the real attraction is the fine white sediment on the bottom of the lagoon!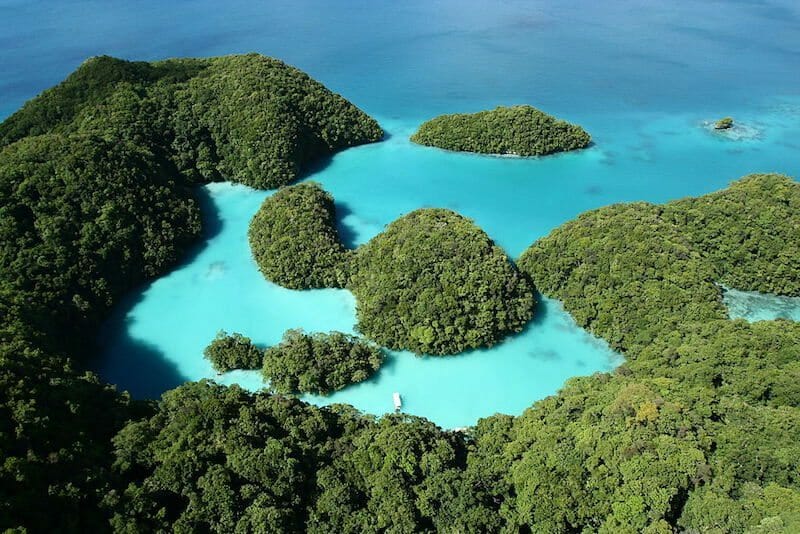 The Milky Way is a secluded lagoon within the Rock Islands. Over 100's of thousands of years the tides bring in water enriched with limestone and chalk particles that sunk to the bottom creating a thick layer of white rich mud. It is sad, that when you rub yourself with the white (smelly) mud, you will look ten years younger after you rinsed it.
A trip to Palau Milky Way is best combined with a Rock Islands Kayak and snorkel tour.
Location of the Palau Milky Way: Within the Rock Islands
How to get to Palau Milky Way?: 70 minutes Speed Boat ride from Koror
Opening hours: every day
Entrance fee: permits for the Rock Islands are 50$ for ten days
Things to see: Beautiful secluded Laguna with milky "white" water and white sand
Interesting facts: The white sand is known for its beneficial and healing characteristics.
Duration of visit: 1 to 2 hrs.
Kayangel Atoll Belau, Palau
The Kayangel Atoll is the only atoll in Palau and one the most amazing Palau points of interest.  Despite being hit by a typhoon some years ago, Kayangel still offers stunningly beautiful beaches, with white sand, seashells, and driftwood, like you only know them from your dreams. The water around the atoll is a breathtaking azure color.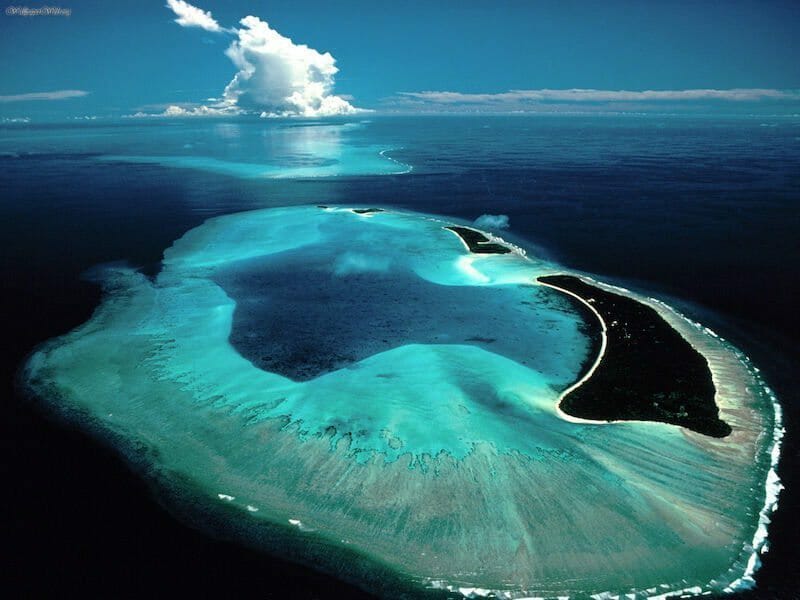 The Kayangel Atoll is the perfect place to sit in the shallow water, contemplate the ocean, enjoy the natural beauty of the area and be happy. Spend the day here with fishing, snorkeling and sunbathing! If you're lucky, you can even spot some wild dolphins!
Location: Kayangel Atoll, Palau
How to get to the Kayangel Atoll?: 2 hrs speedboat ride from Koror
Opening hours: every day
Entrance fee Depends on tour operator
Things to see: Palau's only atoll, beautiful sea vistas, great beaches
Interesting facts: You can book an overnight stay at a Rangers' house or call/e-mail Kayangel state for permission to pitch a tent and spend the night on the beach for the real island experience
Duration of visit: Full day trip
Points of Interest in Koror:
Koror is both a state and the biggest city in Palau. About 70% of the entire population of Palau live here. It is the island nation's center of commerce and attracts the majority of tourism. It has many interesting sights to offer, but if you are interested in the history and culture of Palau, you should not miss its' museums.
Also read: Laidback Koror Not Your Typical Tourist Destination
The Belau National Museum, Koror
The Belau National Museum is a Palau Point of interest you should not miss. You will find different exhibits about the history and culture of Palau. It has an outside and an inside part. The outside part shows the Diangel Hangar with a Carolinian canoe, a taro patch (Taro is one of Palau's traditional crops) and the number of artifacts from battles during World War 2.
Inside, you find typical Palauan art, some canoes and a lot of information about explorers and traders throughout the history of the island state. The Belau National Museum is a must-see for anybody interested in the history of the island nation of Palau.
Location: Ngerbeched Hamlet, Koror
How to get to The Belau National Museum?: Drive to downtown Koror
Opening hours: Monday – Friday 9 am – 5 pm, Saturday 10 am – 5 pm, Sunday 1 pm – 5 pm
Entrance fee: Adults 10 USD, Children 5 USD, discounted rates for residents
Things to see: Great overview of the history and culture of Palau and its colonialization, mostly photographs and text. Natural History Museu
Interesting facts: Besides the museum, there is also a botanical garden, a gift shop, and the Keam Cafe
Duration of visit 1hr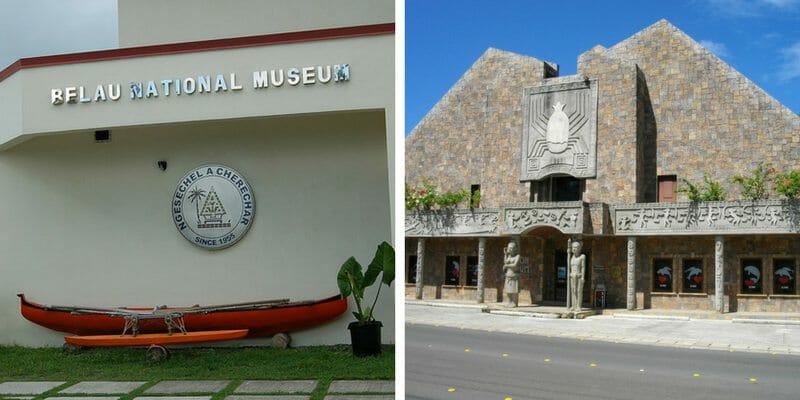 Etpison Museum, Koror:
This beautiful little museum offers an eclectic collection of exhibits focusing on the history and culture of Palau and Micronesia. You can find anything from antique money and turtle shells or beads that were also used as currency in the past, canoes, photography, and sculpture. The Etpison Museum also has an extensive collection of antique maps and prints of Micronesia.
It also engages in a variety of environmental projects, one of which is the protection of the local dugongs. You can find a large carving of a dugong in the museum.

Location: Koror, Palau
How to get to the Etpison Museum: Drive to downtown Koror (combine with The Belau National Museum)
Opening hours: Monday – Saturday 9 am – 5 pm, Sundays closed
Entrance fee: Adults 10 USD, Children under the age of 12 and residents are free
Things to see:  Overview of the history and culture of Palau and Micronesia with many ancient maps and photographs
Interesting fact: The Museum spearheads many environmental and conservation programs
Duration of visit: 1 hour
Points of Interest on Malakal Island
Head over to Malakal Island for the perfect way to finish a day of diving or sightseeing Palau Points of interests with a relaxed meal and a refreshing beverage! Malakal Island belongs to the state of Koror. Palau's Port is located here. Malakal Island is attached to Koror island via a bridge. Cross the bridge if you want to go for a nice evening with dinner and a few drinks.
You will find a great selection of bars, cafés, restaurants, and hotels on Malakal Island. Malakal Island is where you will find the Palau Royal Resort set in lush gardens with its private beach, but there is so much more!
Head to the Drop-Off Bar and Grill for a sundowner. Food is good and reasonably priced, but the seafront scenery is unbeatable! Have one of the best Pina Coladas in town and enjoy it on the deck overlooking the sea.
If you are looking for dinner, head over to Kramer's Restaurant for awesome food and excellent service. Kramer's is a favorite hangout for expats living in Palau. A personal favorite from the menu is the Chicken BBQ Fajitas, which are finger licking good, or, if you prefer seafood, try the fish tacos! All seafood dishes are super fresh and tasty! Some people say that here they make the best mojitos on the island!
Also, the Bottom Time Bar and Restaurant deserves to be mentioned. Attached to Sams Tours, it caters mainly to divers, who will come here for their well-deserved deco-beer. This is a great place to hang out and talk diving over a pint of the local draft, "Red Rooster." There is a Happy Hour from 3 pm to 6 pm.
Location: Malakal Island, Palau
How to get to Malakal Island?: Cross the Malakal Island bridge and drive until you will see the signs of the bars mentioned above
Things to see: Great array of bars, restaurants, cafés and hotels
Palau Points of Interest in Babeldaob
Koror is connected to Babeldaob by the Koror-Babeldaob Bridge, build in 2002, to replace the former, collapsed bridge constructed in 1978 and collapsed in 1996. In Babeldaob you will find the following point of Interests.
Airai, Palau – The Bai:
Airai State with a population of around 3000 people is the second most populous state of Palau. It stretches over an area of 44 km², contains the country's major airport, the Roman Tmetuchl International Airport. Its biggest town is also called Airai.
The city is best known for its traditional Palauan men's meeting house, a so-called Bai. In former times, each village in Palau used to have its own Bai. At the beginning of the 20th century, more than 100 bais were still in existence in Palau.
The typical Bai was used as a meeting hall for the governing elders. It is usually located in the middle of the village, on the village square and serves as the community center. The Bai is made from fine hardwoods and elaborately decorated with ornaments and traditional designs and colors.

Unfortunately, some of the Bais in existence today have not been treated kindly by Palau's hard rains, but for anybody even remotely interested in Palauan history and culture they are still worth a visit as they used to be such an integral part of community life.
Location: Airai, southern coast of Babeldaob
How to get to the Bai in Ariai? Cross the Koror-Babeldaob bridge and follow the main road for 10 minutes.
Opening hours:
Entrance fee: US$5 per person
Things to see: Traditional men's meeting house called Bai
Interesting facts: The oldest Bai in existence dates back around 200 years.
Duration of visit: half an hour
Palau's Capital: Melekeok and the Ngerulmud
Palau's Capital: Melekeok and the Ngerulmud
Despite Koror being the largest city in Palau, with around 20,000 inhabitants, it has not been the island's capital since 2006. But: What is the capital of Palau, you might ask? An innocuous little town called Melekeok, on the Isle of Babeldaob, the country's largest island, located 20 km northeast of Koror. The city, with its 400 inhabitants is the least populous capital of any sovereign state worldwide.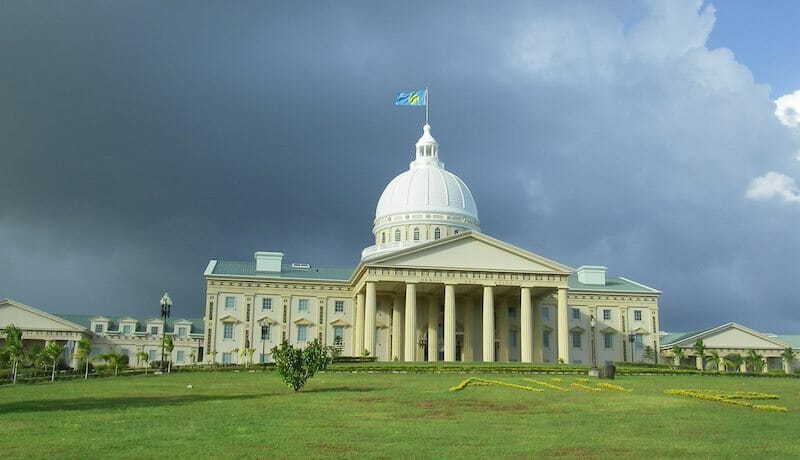 Melekeok, Palau's capital, is the home of Palau's capitol building, the Ngerulmud, the administrative seat of Palau. It is a most impressive building, maybe a little too grand for such a modest, but lovely town as Melekeok! Make sure to take a picture of this almost surreal sight!
Location: Melekeok, Babeldaob
How to get Melekeok?:  Melekeok is located 20 km from Koror. Follow the main road coming from Airai.
Opening hours: not open to the public
Entrance fee: not open to the public
Things to see: the Mgerulmud, Palau's Capitol building
Interesting facts: The design for this building was based on the U.S. Capitol
Duration of visit: half an hour
Ngardmau Waterfall Tour
Also read: 10 Unusual Facts About Palau
The Ngardmau Waterfall in Babeldaob
The Ngardmau Waterfall in Babeldaob is the largest waterfall in Palau. This waterfall is around 30 m high and 37 m wide. As you follow it downstream, you can find beautiful little pools and miniature waterfalls.
During the hike to the waterfall, you can find historical remains of Japanese colonial times along the trail, such as an old locomotive and other parts of an old railway system. If you're not much of a hiking person, you can take the monorail or even a zip-line down to the Ngardmau Waterfall.
Location: Babeldaob
How to get The Ngardmau Waterfall: Drive up north from Airai, 40 minutes' trek from entrance to Waterfall
Opening hours: 9 am – 5 pm, open every day
Entry fee: 20 USD p.p
Things to see: beautiful views, ruins of the Japanese colonial times and the Ngardmau Waterfall
Interesting facts: according to a Palauan legend, then Ngardmau waterfall was formed by the body of a spirit, a huge eel with only one eye, that was believed to be a God. One day, this spirit fell into a deep sleep, and unable to wake up again, his body developed into the river, with the head becoming the Ngardmau Waterfall.
Duration of visit: 2 to 3 hrs
Stone Monoliths of Ngarchelong
What are monoliths in general? Monoliths are defined as large blocks of stone or a statue, obelisk or column cut from one block of stone. Examples include Stonehenge or the colossal statues of men on the Easter Island, the so-called Moais. The Badrulchau Stone Monoliths are a lot smaller in size, and all-around also less impressive, but nevertheless worth a visit. A tour of the Ngardmau waterfall can easily be combined with a visit of some of Palau's stone monoliths, which are approximately a 30 min ride from the Ngardmau waterfall.
Located at the northernmost point of Babeldaob you will find a series of stone monoliths. Legend has it these were placed there by a god to support the building of a Bai to hold all of his people.There are two columns of refrigerator-sized basalt monoliths, some with carvings of faces.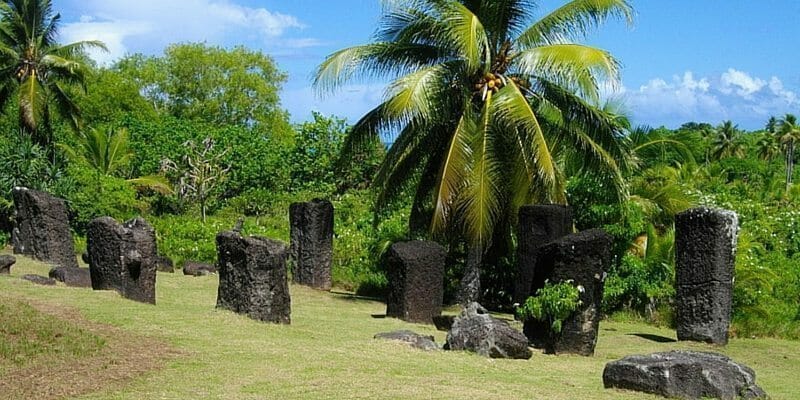 The Stone Monoliths of Ngarchelong are part of a historic site that is shrouded in mystery, and no one knows the exact origin of these structures. In local religion, they were regarded as a sacred area for prayers and rituals, but today, they are a very popular site for history lovers and tourists alike.
There are in total 39 stone structures protruding oddly from the ground; you'll be inspired at how these objects have stood the test of time for thousands of years. Experts believe that these monoliths were built in 100 AD.
Impressive enough to astonish, yet small enough to be fully appreciated, many of these four-foot tall structures resemble smaller versions of the type of artifacts seen on Easter Island (though without human characteristics ascribed to them). The largest of these stones weighs 5 tons. The views around the monoliths are strikingly beautiful with great views over the Pacific Ocean.
Location: Badrulchau, Babeldaob
How to get to the Stone Monoliths?: Follow the main road coming from Airai and take a left when you see the road sign that refers to the Monoliths. Keep your eyes open, you might miss it.
Opening hours: 9 am – 5 pm
Entrance fee: 5 USD
Things to see: Stone monoliths, scenic view over the ocean
Interesting facts: The big stones to build these monoliths do not originate from the island of Palau, but had to be imported from elsewhere
Duration of visit: one hour
What is the best way to visit the Palau points of interest?
You can visit all the mentioned Palau points of interest by yourself at your own pace. Renting a car is quite easy and relatively cheap compared to other remote places in the world.
You can find rental cars at King's Motel, Budget Cars and Palau Automotive just name a few.
As you can see, Palau and its many islands have so much more to offer than just great diving and snorkeling! Dive deeper into the fascinating history and culture of the islands and enjoy the hospitality of this amazing people and this will become the holiday of a lifetime!
Please feel free to contact us directly if you would have any questions. We love to hear from you.