Just west of one of the most picturesque beaches in Palau (Ulong Island) lies Ulong channel which is known for its strong currents, seasonal spawning activity, gliding sharks and one of the most exhilarating channel gliding experiences in Palau.
• Suitable for: Advanced to Expert Divers
• Minimum/ Maximum Depth Ulong Channel: 10-40 feet (3-13 meters)
• Location:15 miles west of Koror, west of Ulong Island
• Time/Distance from PDA: 30-40 minutes by speedboat
What you can expect to see when scuba diving Ulong Channel?
The currents at Ulong Channel can be unpredictable and strong and it's not uncommon to experience abrupt changing currents midway through a dive. Stick close to your guide, you may have to turn around. The best time to dive Ulong Channel is on an incoming tide when the current is strongest and the most clear, visibility up to 95 feet. 
Drop down into Ulong Channel to 60 feet and drift for about 10 minutes before hitting the mouth of the channel. It is here at the mouth of the channel where the stingrays, Gray reef sharks, schools of snappers and jacks and the elegant batfish can be seen gliding past.
Enjoy the show at Ulong Channel
Hooking in is not uncommon during a strong current. There's enough to see that stopping for a bit to witness the action is not a bad idea. Visit Ulong Channel during a full moon in the months of April, May, June and July and thousands of snappers gather to spawn. Even the typically lone grouper has been known to school at this time at Ulong.
Watch out, also during this time, Titan Triggerfish are nesting. Divers should stay clear of Triggerfish who are clearly digging out their nests on the sand. Simply dive around, instead of over, their nests and hopefully they won't get too jealous.
Unhook and ride the currents of Ulong Channel
Typically divers find the cruise through the channel as the most crowd-pleasing parts of the dive. Unhook from the mouth of the channel and prepare yourself for a glide thorough what some divers have likened to being on a ride in a theme park.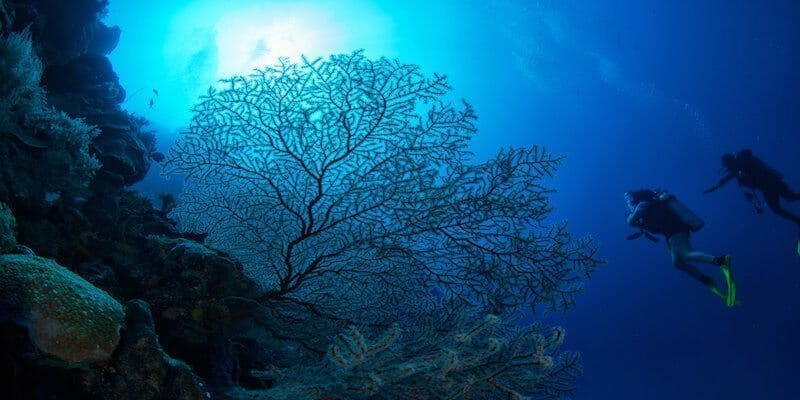 Coral formations, fish of all kinds and potentially sharks being cleaned cruise through the narrow channel right alongside the divers as they constantly adjust their buoyancy, direction and view to mitigate every turn and angle in the channel. The sandy bottom of the channel is anywhere from 10-40 feet deep and showcases many coral formations. One of the most picturesque is a huge lettuce coral garden, housing small fish in its condo-like structures.
Survivor
Also well photographed, and for obvious reasons, is the beach of Ulong Island. Some call it the "Survivor", since the reality TVshow has filmed here in the past. The locals cherish the beach for its historical aspects. Ancient Palauans painted a series of petroglyphs up high on the cliffs of the island.
There is a trail that leads to the petroglyphs so if on a long surface interval and visiting the beach ask your guide to show you the way. If time doesn't allow have your guide point them out as you cruise back to Koror from a great day of diving Ulong Channel.
Would you like to scuba dive Ulong Channel with us? Click here to contact us directly if you would have any questions or would like to book a scuba dive package with us.