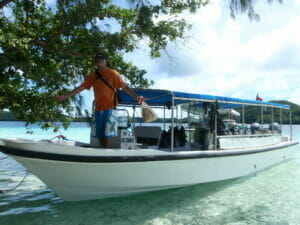 As divers, eventually all of us will end up diving off a boat at some point. And what better place to dive off a boat, but in a tropical paradise, surrounded by remote beaches, crystal clear water and reefs teeming with colorful reef fish. What we will focus on here today is how to have a more enjoyable and safe experience on a "dive boat" in Palau.
Most of the boats that head out for a day of diving in Palau (and even the runabouts the liveaboards use) are all very similar. Twenty-eight to thirty-five feet in length, twin outboards, canvas top for sun protection, and some type of bench seating for the divers. This is the general configuration in Palau and it works well. The boats cruise around 23-27 knots and it takes approximately 45 minutes to reach the main dive sites.
5 Boat Diving Tips for Palau
1. "One hand for you and one for the boat." Whether you need your camera, water bottle or sunscreen, while underway it is always a good idea to keep one hand on the boat or a friend and use the other hand to do what you like to do. This way you are not falling down, or tripping over somebody.
2. As the t-shirt says "obey the captain" (or learn to swim). The Boat Captain is in charge along with the dive guide. Never enter the water without asking. Palau is famous for its drift dives aka, currents. Quite often the boat is in gear and keeping us off a reef or in a hover mode. The reverse is true at the end of the dive. Let the boat come to you, when the Boat Captain puts the ladder in the water and states it is safe to come on board, then climb up.
3. Know where the emergency equipment is. At the beginning of each dive week we will point out where the O2 and first-aid kit is. Pay attention just in case in the rare event you are called on to assist the crew.
4. Fins, don't walk on the deck of the boat with them on. Carry them to the entry point, then put them on. It is way to difficult and dangerous to put them on and walk around a rolling boat.
5. Personal comfort; stay hydrated, use sunscreen and stay WARM. Huh? Warm? I thought we were in the tropics. We are, but remember, even in 84 degree water our core temperature drops.
Palau is in the tropics so we get a lot of rain, have a rain jacket (good quality one) and if you are prone to getting chilly a sweatshirt underneath. Remember the boat is moving close to 30 MPH! Watch the guides, we all like to dry off completely after each dive, removing all our wetsuits. Getting dry means warming up!
Of course, we could go on and on about little tips and tricks. If you follow these for now you will have a much more pleasant and enjoyable trip to Palau. Hope to see you soon in Palau!
Click here to Contact us directly if you would have any questions or would like to make a reservation.
Do you have any tips for scuba diving in Palau? Let us know in the comments below.