If you are looking for the ultimate tropical paradise with tiny uninhabited islands, vibrant culture, pristine reefs, warm waters, excellent visibility, abundant marine life and mind-blowing dives, look no further. Diving Micronesia has everything you could ever wish for and more.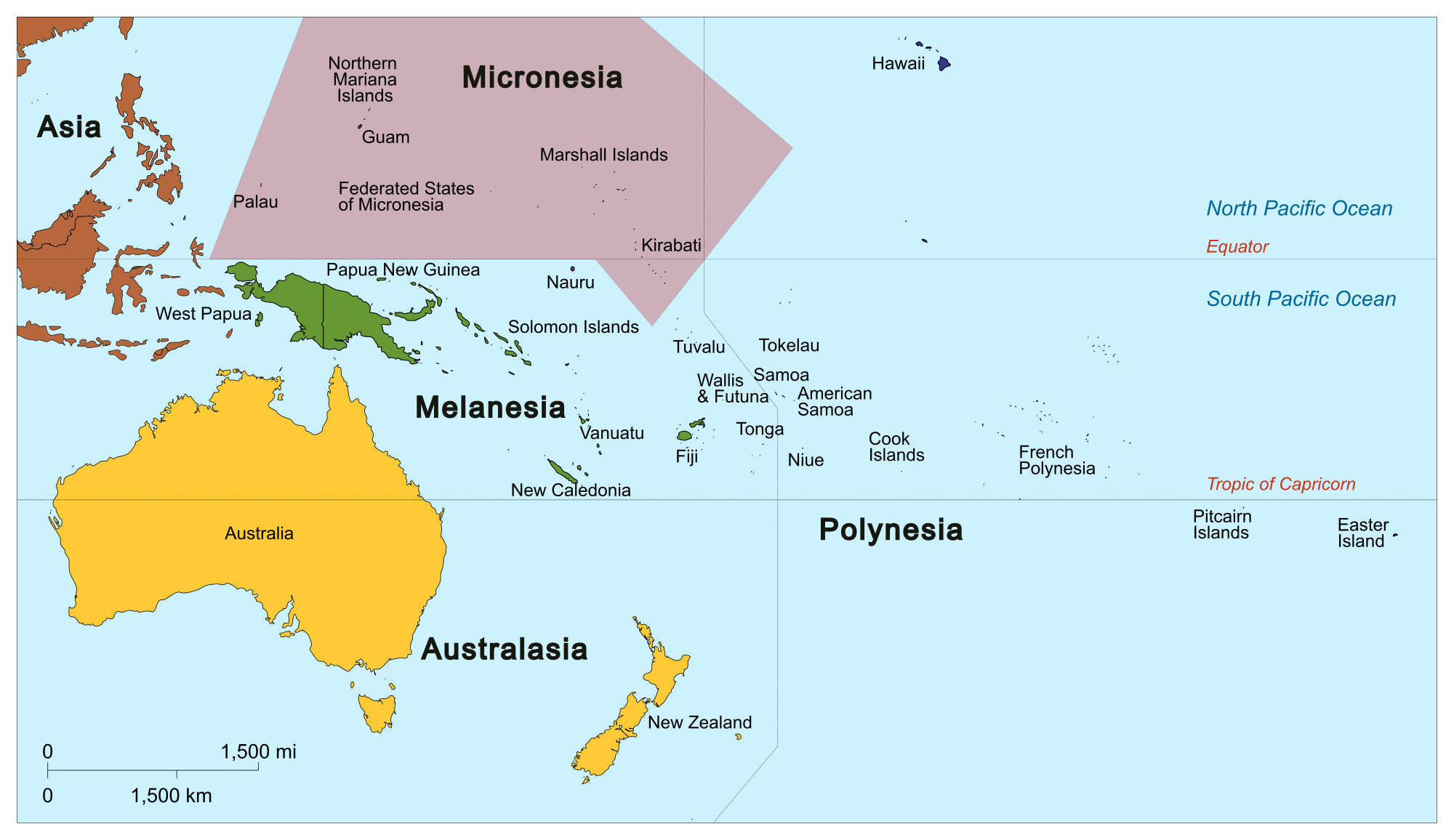 Where is Micronesia?
Micronesia is located north of the equator between the Philippines and Hawaii and stretches out over a vast part of the North Pacific Ocean and is part of Oceania. It consists of thousands and thousands of tiny islands and atolls, all very distinct and different from each other with their culture and identity (for the few that are inhabited!), making Micronesia the perfect destination for an unforgettable and varied diving holiday. You could island-hop around these islands and only surface to change your tanks for all your life, without ever having to do the same dive spot twice!
Politically Micronesia encompasses, together with Guam, the Commonwealth of the Northern Mariana Islands, the Republic of the Marshall Islands, the Federated States of Micronesia and Palau.
The Federated States of Micronesia are an independent island nation made up of 4 island states:
Pohnpei
Kosrae
Chuuk (formerly Truk)

Yap island
Between them, they boast 607 islands. The capital of the Federated States of Micronesia is Palikir on Pohnpei Island.
The current Micronesia population consists of:
104535 people
51% being male
49% being female
The Micronesia population is split up into different ethnic groups:
The majority is made up by the Chuukese with 48.8%,
Pohnpeian with 24.2%
Kosrean with 6.2%
Yapese with 5.2%
Yaps outer islands 4.5%
Asian 1.8%
Polynesian 1.5%
various other ones with 7.8%.
Photo Credit: Brad Holland
Dive deeper into the Micronesian culture
With so many different ethnic backgrounds, also the customs and traditions vary from island to island and are very diverse. But despite all the differences, commonalities can also be found in the Micronesian culture
Since life takes place on small atolls with almost no police, the family has always been of the utmost importance and family obligations come before most other ones, including work and school. There is even a saying that goes "I can always find another job, but I cannot find another family.
Also, food and the distribution of food holds social and symbolic significance. It is the focal point of many ceremonial occasions, and feasts with an enormous amount of food are integral to religious ceremonies as well as government celebrations.
Meals usually consist of either taro, breadfruit, yams, sweet potatoes and cassava with chicken or fish, and some fruits such as coconut, banana, papaya, pandanus, mango and a variety of citrus fruits.
Yap Island and Pohnpei are well known for their traditional dances, while in Chuuk prevails a beautiful tradition: the love-stick. If a young man is in love, he carves two matching sticks out of wood, a longer one for the woman's hair, and a shorter one for his own. He uses the longer love-stick to poke into her hut. If she's also in love with the man who gave her the stick, she will pull it out as a signal for him to come in. If she pushes the love-stick out, it means she's not interested, so things remain very clear!
The history of Micronesia in a nutshell
The history of these islands reaches back several millennia when the first people settled on some of the small islands. The earliest traces of civilization can be dated back to 1,500 BC. The earliest contact with Europeans occurred in 1521, when Magellan reached the Marianas and was welcomed by the locals with great friendliness.
In the early 17th century, Spain colonized Guam, the Caroline Islands, and Northern Marianas, forming the Spanish East Indies, governed from the Spanish Philippines.
In the 19th century, Germany became the most prominent colonial power.
During the 20th century, the United States took control of Guam and claimed Wake Island after the Spanish-American war, and Japan seized most of the remaining region from Germany.
After WW2, most of Micronesia was governed by the USA, with only a few islands still being British colonies. Except for Guam and Wake Island, which are still US territories, and for the US Commonwealth of the Northern Mariana Islands, most of Micronesia's states have since then gained independence.
What you should know about diving Micronesia
In this world that consists mainly of water, diving is spectacular, and the stuff a diver's dream is made off: warm, crystal clear water, an incredible marine life with the guarantee to encounter large pelagics, pristine reefs teaming with life and a generous smattering of amazing wrecks.
The main dive destinations in Micronesia are:
Palau, with its diverse and stunning dives, from shallow muck dives to some of the most amazing current dives
Chuuk/ Truk Lagoon, famous for its multitude of WW2 wrecks
Yap Island with its Mantas, sharks and macro marine life
Guam, the hub to this amazing world full of adventure, where diving is often underestimated yet absolutely beautiful.
You might not have heard about diving in Pohnpei before, but you have no idea, what you're missing! On the north side of the island, there is Pohnpei's most famous dive spot "Manta Road", aptly named for the resident community of Manta rays (including the all black variety) that cruise through the narrow channel in search of food.
With so many dive sites to choose from, you will find dive sites that are shallow, and some that go down to over 40 m, there are drop-offs, deep dives, wrecks and also some amazing caverns and caves. According to your skills, you're sure to find the perfect dive site whether you are a beginner or seasoned diver.
Visibility is usually between 20 m/ 65 feet to 30 m/ 100 feet, and the water temperature a very comfortable 28° C/ 75-90° F. The diving season is great all year round, with no distinct best time to travel.
Depending on where you dive in Micronesia, you have a good chance of crossing a couple of big things off your bucket list, such as mantas, various species of sharks, eagle rays, turtles and the ever elusive Mandarin fish, to name but a few.
Also read: Dive Yap and Palau and Get The Best of Both Worlds
Other Micronesia tourist attractions you should know about
And while it is certainly understandable, that you want to spend as much time diving as possible, you should also explore the unique pastimes above water Micronesia has to offer. There are lots of different things to do besides visiting fantastic beaches like:
Stand-up Paddling and Kayaking
Visiting the ruins of Nan Madol, a city constructed in the lagoon consisting of a series of small artificial islands linked by a network of canals on Pohnpei
Visit Lelu complex on Kosrae, ancient reminders of a civilization that peaked around the 14th century,
Explore Yap, the island of the stone money. Even today it is still in use albeit just for ceremonial reasons.
When in Palau, make sure to visit the jellyfish lake and snorkel with these amazing non-stinging creatures and visit Peleliu Island for a touching glimpse into a major World War II battlefield with various artifacts left behind. You would not regret it!
How to get to Micronesia?
The planning a trip to Micronesia, the best airport you can travel to is Guam's international airport Antonio B. Won Pat. With many international flights arriving from all over the world, this is a real gateway to other Micronesian destinations. But there are a few other international airports in the area, such as the Roman Tmetuchl International Airport in Palau and the Yap and Chuuk International Airports.
Also read: How to get to Palau
Continental Air Micronesia offers an Island Hopper route between Guam and Hawaii, with stops on the islands of Majuro, Kwajalein, Kosrae, Pohnpei, and Chuuk. A second route connects Guam and Manila with stops on Yap and Palau.
Nauru Airlines or Fiji Airways fly from Fiji to Tarawa. Alternatively, you can fly to Guam by Continental Airlines. Nauru will also bring you from Brisbane or Fiji to Nauru and Tarawa. There are also quite a few international flights linking Guam to various airports in Japan, China, and Korea.
Practical tips when traveling to Micronesia
Maybe now you will ask yourself, what language do Micronesians speak? As you might suspect, many local languages are spoken, actually over 20, but English will stand you in good stead, and so will the US Dollar.
As for visa requirements, they vary depending on where you travel. When traveling to Palau, your passport needs to be valid for at least six months and sometimes you might have to show a return ticket. For a stay of fewer than 30 days, no visa is required. You will be issued a tourist visa upon arrival. Upon departure, there is a protected area network green fee of $15 and a US departure fee of $20.
When traveling to the Federated States of Micronesia, some nationalities require a tourist visa beforehand. Maybe it is a good idea to check the Federated States of Micronesia's visitor's board page. The departure tax (15 $) is usually included in the flights. Yap has no departure fee.
For Guam, the visitors require a valid passport with a visa for the United States. Some travelers are eligible for a no visa travel program that is valid for 45 days. Please refer to the Guam Visitors Bureau for further information. There is no departure fee.
Are you ready to go diving in Micronesia?
You should now be ready to embark on one of the most fantastic diving holidays of your life, during which you will encounter some of the most majestic creatures any diver can hope to meet, and dive along some of the most amazing reefs you have ever seen in that incredible diverse wonderland that is Micronesia.
Please feel free to contact us directly if you would have any questions. We love to hear from you.