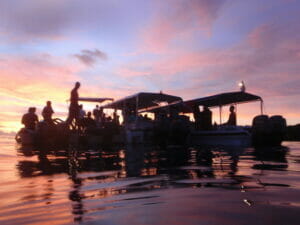 There are so many wonderful and exciting things to do in Palau. Diving, kayaking, snorkeling, swimming, fishing, etc. Whatever you like to do in, or on the water, it is definitely possible in Palau. The other day we did something we don't do enough, spend time with friends and family and BBQ. Sam's Tour was the host this time and we owe them a big thank-you for hosting such a great family and friends party. The adults had a blast as well as the kids.
The kids played in the water, jumped off the boats, we had volleyball matches, with Jane from Kramers Restaurant as the ref. If you know Jane, you know how "passionate" she can get, and when she is "right" well there is no point in arguing it. If you don't know Jane yet, you will when you visit Palau. All Palau trips should include a dinner or two at Kramers and some bar time there as well. Back to our day.
Home away from home
We ate all day till we could not eat another bite and all the adults in the afternoon followed the lead of "Sam" and got in the water for a nice afternoon cool off dip, that lasted for hours. We continued to drink and share stories till sunset when we finally packed up. We had a beautiful cruise through the rock islands until we all ended up out in front of the Sams Tour dock, rafted up the boats and watched a truly amazing Palauan sunset.
Palau is world famous for many exciting and beautiful things, but, never pass up on an offer from your friends or family for a nice day, on a secluded beach in Palau. Even if it is your first trip to Palau, I know both Palau Dive Adventures and Sam's Tour will treat you like family and if we have a BBQ you will be invited. In Palau we don't say "good-bye" we say see you soon again! Special thanks to Sam's Tour family for including us!
Click here to Contact us directly if you would have any questions or would like to make a reservation.