We know Palau diving can be a bit intimidating the first time. After all, Palau is famous for its drift dives, plentiful sharks, mantas, beautiful walls, colorful reef fish, and wreck dives just to name a few of the diving attractions that make Palau truly one of the best dive spots in the world.
Rest assured, we will do our best to make Palau a truly enjoyable experience for you, one that you will want to come back to, time and time again. How do we do it? Keep reading and find out.
It Does Not Have to Be Intimidating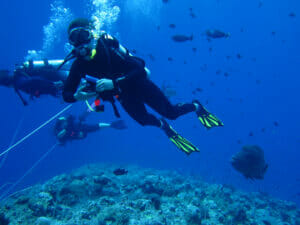 We believe it all starts with our concept of a week long dive schedule. New divers are not coming on board everyday and the crew remains the same for the entire week. We also do not allow more than 8 divers on board at any given time.
So, we all get know one another quickly. The Sunday evening meeting is also very important. Here Jason, our lead guide, will go over the weekly dive itinerary, leaving no surprises for you. He will go over how many dives we will do each day, what time we will pick you up and handout a general schedule for the week.
On Monday, our first dive day, Jason will go over the boat with the group. Where to store your gear and where we keep our O2, A.E.D., and first-aid kit. Each diver should be familiar with the location of these safety items. Once underway, it is a beautiful 45 min. boat ride through the Rock Islands to our first dive site.
Palau Diving briefing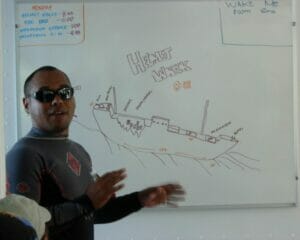 Jason will give a thorough dive briefing, covering the overall dive plan and how to enter and exit the water. This first dive will be a warm up dive so to speak, we will check your buoyancy and make any adjustments that will make your diving more enjoyable. This first dive will be at a site with little to no current.
We like to start the week off this way. Easing into Palau. We believe that these first few steps we take, the Sunday evening meeting, no more than 8 guests per boat, going over the weekly dive schedule, Monday's boat orientation and the easy first dive will set things up for a very enjoyable week in Palau for you.
At the end of the week you will have completed 13 total dives, and you will definitely be thinking to yourself, when can I come back?
We hope this helps those of you who may be a bit apprehensive about Palau diving. Please come back next week, as we go over our Specialty Week, that is geared towards making you more comfortable in the water and around boats.
We will go over the highlights of this specialty week, and touch on some of the key points. We can all learn from our lead guide Jason, who has over 6000+ dives in Palau!
Click here to Contact us directly if you would have any questions or would like to make a reservation