Manta Rays in Palau, Where and When to Find Them?
Would you like to go scuba diving with Manta Rays in Palau? One of the world's best scuba diving getaways, Palau is a hidden treasure that far too many people never have the opportunity to experience. Tucked away in an enclave of barrier reefs and ancient underwater volcanoes approximately 600 miles off the coast of the Philippines, Palau features a wide array of oceanic wildlife and beautiful flora.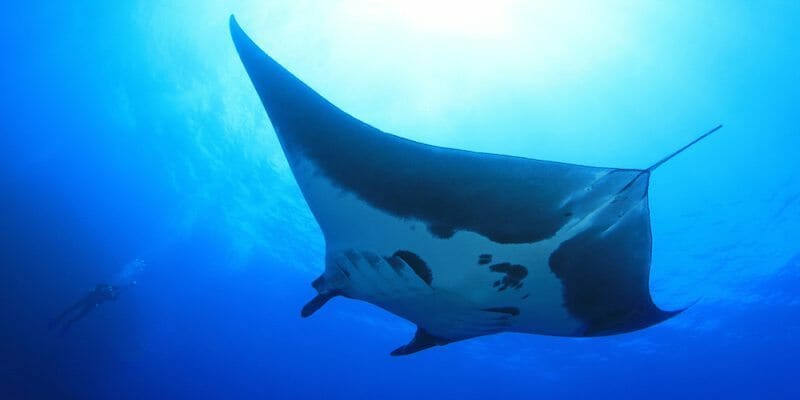 The calm oceans surrounding these two hundred islands that comprise the nation is possible due to the barrier reefs that help insulate it from the wild waves and depths of the Atlantic.
One of the more majestic creatures that you can expect to encounter in the shallow waters of Palau is the manta ray, which appears in abundance in our rich and peaceful habitat called Palau.
We'll discuss the main points of this incredible creature, what to expect when scuba diving with them and when the best time to find them in Palau is.
Manta Rays in Palau
The name "manta ray" originates from Spanish and refers to a cloak, due to the shape and movement of the animal. The manta ray lacks bones and instead is comprised of cartilage, which gives it shape but allows it to move seamlessly through the water. Manta rays can range in size from 4 to 7 meters in width and are known to engage in breaching, which is where they jump out of the water (much like whales and dolphins do).
The manta ray can weigh more than one ton, making it one of the heaviest creatures in the ocean besides some sharks and whales. Manta rays are often fairly friendly around humans and have very little reason to ever attack, so scuba diving with manta rays  in Palau is a very popular pastime
Where to dive with Manta Rays in Palau?
In and around Palau, there are plenty of barrier reefs that accommodate manta rays and other forms of marine life. This is usually the first place that a scuba diving group will explore in search for these majestic creatures. German Channel is probably the most famous spot where Manta Rays can be found where so called cleaning stations can be found. "Cleaning stations"  are areas where small fish will suck parasites off of manta rays.
Best Times to Dive with Manta Rays in Palau?
The winter months are by far the best time to find large groups of manta rays in Palau; January and February scuba dives in particular can result in spotting dozens of manta rays in a single location. Even though Palau is close to the equator, the summer months typically see much less manta ray activity, so be sure to plan your trip accordingly.
If you want to know the best hours for diving while in Palau, then be sure to book your dive after sunset. Manta rays become far more active during the evening hours, meaning that your dive will be more likely to result in successful observations of these creatures. Some people have good luck during daylight hours, but no guarantees can be made in this case.
Manta rays in Palau are one of the most interesting sea creatures you can observe. Whether you are an experienced diver or a first-timer, Palau Dive Adentures will guide you into their habitat and see them in action first-hand.These ancient and glorious creatures are to be respected and revered, and once you see them in-person, you'll understand why!
Click here to contact us directly if you would have any questions or would like to book a scuba dive package with us.