Looking for the ultimate dive destinations? Let me tell you a bit more about diving Yap and Palau. Nestled at the extreme western end of Micronesia, with its 2000+ islands, in the vast expanse of the Pacific Ocean, lie two islands that are every diver's dream come true: Yap and Palau.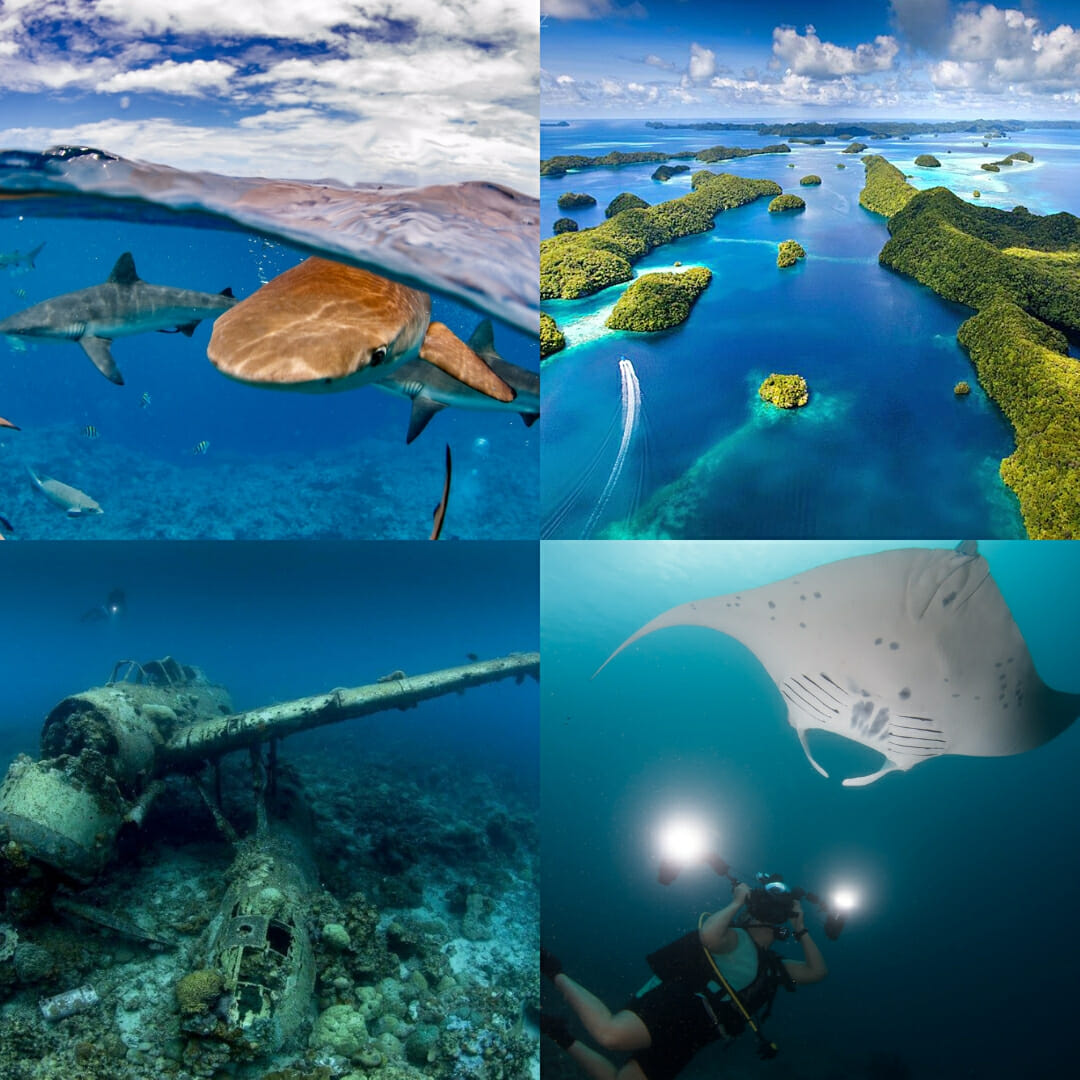 Yap and Palau are the stuff a scuba divers fantasys are made of, a veritable Garden of Eden, one of the last few remaining paradises on this planet. With their rich culture and tropical climate, they make a truly outstanding destination and will provide you with the most unforgettable dives.
They are part of what is commonly known as Micronesia, a tropical wonderland that together with Guam consists of the:
Commonwealth of the Northern Mariana Islands
The Republic of the Marshall Islands
The Federated States of Micronesia
Palau
Why should you go diving Yap and Palau?
Each of these two islands provides its very own fantastic experiences, culture and highlights above and below water, and it is very hard to choose, which one to favor for a diving holiday, so why not do the smart thing and combine the two, getting the best of both worlds? Here is why and how!
Yap and Palau are rather remote, to say the least, and getting there will require quite some time, so it makes a lot of sense, to experience not only one island but two during the same trip. Palau and Yap are indisputable amongst the most amazing diving destinations Micronesia has to offer, and the diving is truly outstanding.
What is the best time to dive Yap and Palau?
You can dive in Yap and Palau all year round, and there is no distinct Palau or Yap diving season. Since they are in the tropics, there is quite a bit of rain all year round, luckily mostly at night, but be aware, that there might be more rain in July and August.
Luckily even when it rains, it will still be warm and very often the weather is great, even in the rainier "green" season. Visibility under water is usually around 20 m/ 65 feet to 30 m/ 100 feet, and the water temperature a balmy 28° C/ 75-90° F, perfect for a shorty or 2-3mm wetsuit.
What to expect when scuba diving in Yap?
Scuba diving in Yap is truly outstanding. There is an extensive barrier reef protecting many of the dive sites in Yap as well as channels and even lagoons, that are perfect for macro and night diving.
The highlight of Yap are its resident Manta Rays and marvelous reef shark population.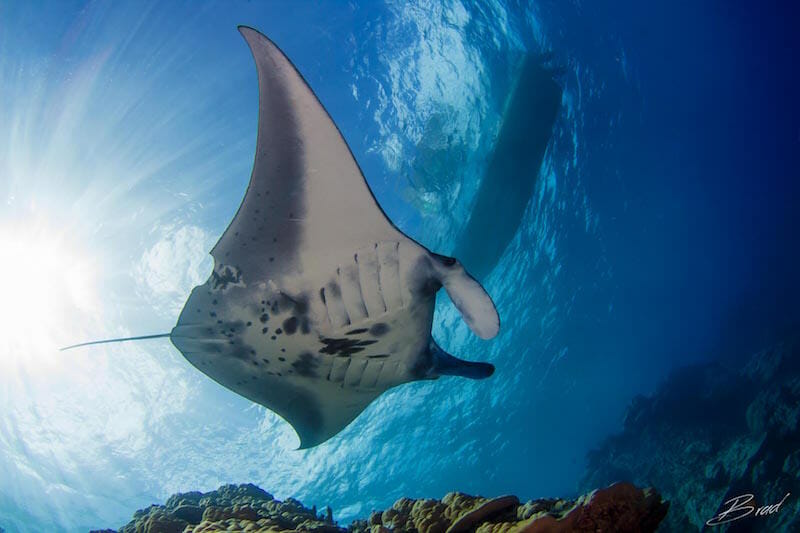 The Manta ray mating season in Yap starts in December and goes through to April. During this period, you will have the best chance of spotting large numbers of these graceful animals under water.
Mi'l Channel, with its sometimes treacherous currents, is just one of the dive sites in Yap where you may encounter them. Another exceptional dive site is "Yap Caverns", a series of fantastic canyons with a maximum depth of 18 m. The sun penetrates these caverns through holes in the reef top, illuminating a vast array of hard and soft corals along the wall, with whitetip reef sharks resting on the sandy patches, and tuna and Amberjacks waiting for you at the entrance to the caves.
There is also a dive site aptly named the Magic Kingdom, a gradual slope descending to 30 m. You find a multitude of baby reef fish, juvenile pelagics and interesting critters hiding amongst the corals. There are huge schools of Jackfish and Barracuda together with many Grey and Whitetip Reef Sharks.
If that is not enough for you, do not forget that large parts of the reef systems of both islands are unexplored and have never or only rarely been dived on. When booking your trip, you should inquire if you can do some exploration diving for an adventure of a lifetime.
Besides the obvious large pelagics such as a multitude of sharks and Mantas, you will also see a vast variety of marine life, such as eagle rays, hawksbill turtles, different schooling fish such as barracudas and jackfish and, if you're lucky, the incredible Mandarin fish, one of my personal favorites.

What to expect when scuba diving in Palau?
Scuba diving in Palau is in a class of its own when it comes to drift diving, and although you will find shallow and relaxing reef dives and even some wrecks, the best dives involve quite a bit of current, so do not forget your reef hook. You would want to use it on the plateau of the Blue Corner. Just hook in and enjoy being surrounded by numerous gray reef and whitetip reef sharks, as well as an array of colorful reef fish.
German channel also definitely counts amongst the best dive sites in Palau. It was created by German miners at the beginning of the 20th century and has since then been narrowed down by coral growth, making it a stunning dive, but also hard even for a slender live aboard to pass through.
That said, many Manta rays and grey reef sharks do not have a problem passing through this channel. Ulong Channel is considered one of the best drift dives on the planet, for its beautiful corals and a large number of sharks; Peleliu Wall is one of the most beautiful and deepest wall dives in all of Palau.
Drift past large sea fans and beautiful corals and check out the canyons, caves, and crevices for an abundance of amazing critters. Keep an eye out in the blue, because if you're lucky you might spot a pygmy killer whale, Oceanic Whitetip shark or other passing large pelagics.
What to do when not diving in Yap or Palau?
Even when you are not diving, as hard as it is to imagine, Palau and Yap have a lot to offer above water. In Palau make sure to check out Jellyfish Lake, populated by millions of these fascinating creatures, which have lost the ability to sting, since there is no need for it. Or take a kayak tour around the amazing Rock Islands between the mangroves for a glimpse of secret lakes and beaches.
If you are lucky, you might even encounter one of the very rare and endangered dugongs (aka sea cows) that live in the area. Also, Peleliu Island is worth a visit, and not only if you are a WW2 buff.
This tiny island was the venue of a fierce and tragic battle between the United States and the Empire of Japan, codename: Operation Stalemate II. Today still you will find gun emplacements, tanks, planes, and weapons scattered around the island.
When in Yap, kayaking is also fantastic, but make sure to visit the island since the jungle there is littered with World War II relics and plane wrecks like you've seen it in the movies. One thing is for sure: a trip to Yap isn't complete without seeing some giant stone money, the Rai stones, large circular disks carved from limestone!
Yap and Palau Resorts – Where to stay?
Both Palau and Yap Island offer a wide choice of accommodation for every taste and wallet, from the affordable budget plan up to the all-inclusive luxury hotel. The Yap dive resort we recommend staying at is Manta Ray Bay Resort where you will dive with the crew of Yap Divers. When on Palau we suggest you stay at Palau Pacific Resort or Palau Royal Resort where you will dive with our crew here at Palau Dive Adventures.
Also read: 3 Luxury Hotels in Palau Where we Could Relax all Day
How to get to Yap island from Palau and back?
There are Yap – Palau flights and back, but these are limited. To get started the best airport, you can travel to is Guam's international airport Antonio B. Won Pat. With many international flights arriving from all over the world, this is a real gateway to other Micronesian destinations such as Yap and Palau.
Depending on your schedule and planning, you can then continue onto Roman Tmetuchl International Airport in Palau and Yap International Airport.
Direct flights are offered through Caroline Island Air and go to Yap from Palau on Saturday mornings. The return flight from Yap to Palau is on Friday night. We at Palau Dive Adventures or Manta Ray Resort in Yap can book you this ticket. The cost is usually around $650-$700 round-trip.
United offers a flight to Yap from Palau with a layover in Guam.
Also read: How to get to Palau
How to get from Palau to Yap?
The two islands are located exactly 452 km (281 mi) apart, so the flight from Palau to Yap is a short one with just a little over an hour flight time.
Visa requirements for Palau and Yap
When traveling to Palau, your passport needs to be valid for at least six months. Sometimes you might have to show a return ticket. For a stay of fewer than 30 days, no visa is required. You will be issued a tourist visa upon arrival. Upon departure, there is a protected area network green fee of $15 and a US departure fee of $20.
When traveling to the Federated States of Micronesia, some nationalities require a tourist visa beforehand. It may be a good idea to check the Federated States of Micronesia's visitors board page. The departure tax (15 $) for most islands is usually included in the flight. Yap has no exit fee.
Practical tips when traveling to Yap and Palau
In Palau, one of the official languages spoken is Palauan, and the other one is English. If you would like to say "Hello", you would say "Alíí!". In Yap they speak Yapese, so you would say "Moghetin!" for "Hello", but English will stand you in good stead on both islands, and so will the US Dollar.
This information should help you a little bit when planning this trip of a lifetime to dive Palau and Yap! Just think about the amazing things you are going to experience above and below water, the new cultures you are going to encounter, and the amazing and unforgettable dives you are about to do in Yap and Palau! I just wish I could join you there!
Please feel free to contact us directly if you would have any questions. We love to hear from you.