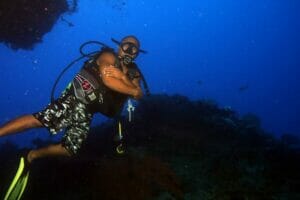 We all know Palau diving is home to some of the best in the world. Thousands of scuba divers will come to Palau every year. Our top concern at Palau Dive Adventures is safety, Yes, we put this first! One way we do this is limit the number of divers on our boat to a maximum of 10.
Palau Diving, Safety
The information below is based on experience and training. This is not something we just found in a book and copied. Here is what we have done to prepare ourselves for what we hope, never happens on our scuba dive boat in Palau. What we will go over is specific to remote area diving with extended ETA's to a recompression chamber or professional help.
Each dive boat should carry items that are specific to their own operation. It is not a one size fits all! Here is what we do and carry on our Palau dive adventures boat to handle dive emergencies.
#1. Training
Carry all the fancy equipment you want, but, if the staff does not, or is not comfortable using the equipment it won't get used properly. Practice, practice and then do it all over again. It should be second nature, when an emergency arises. All emergencies can be anticipated and properly trained for.
#2. Communication
What ever it is you need to summon for help and activate the chamber to let them know you're coming.  In Palau, surprisingly, cell phones work quite well at famous dive sites such as
Communication is key
This covers a large area for us. If this does not work we have a VHF radio we can use. The benefit of using a VHF radio in areas where a rescue boat will come is, they can triangulate on the signal, which is impossible to do on a cell phone.
3. Equipment
What do we carry on board?  An, A.E.D. (in a Pelican box marked AED), O2,  non-rebreather O2 masks, bag-valve masks for a full arrest, oral airways, first-aid kit,  medical gloves.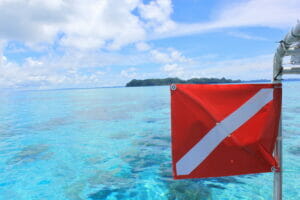 We plan to be fully self-sufficient for up to an hour and a half. So, we have to carry enough O2 to last. One option if case we run out of 100% O2 would be to connect to a Nitrox tank, you just have to make sure you have this as a backup plan. You will not be able to pull it off in the middle of an actual emergency.
4. Scene management
Not "equipment" per se, but you are going to have to manage the scene on a dive boat. There will be guests that will be o.k. helping and others that are best suited to go to the bow of the boat and never look back.
Most divers have first-aid and CPR training. We carry a crew of 3 staff per boat of 10 divers. This leaves one person to drive the boat back, one person to make a cell phone or radio call for help and the last staff member is the lead on patient care.
If it is a full-arrest then a good spot for the staff member handling patient care is at the head. This staff member can handle ventilations while managing 2-3 guests rotating through compression. The guests should rotate compression every two minutes.
Practice makes perfect
We "plan for the worst hope for the best." That is our motto. Not hope for the best and not plan.  The rescue equipment should be checked out daily, with an area to write in the pressure in the O2 cylinder(s). Depending on the crews experience, training demands will vary. At a minimum, I would say quarterly refreshers, possibly monthly till everybody really understands what is going on in each of the roles listed.
Click here to Contact us directly if you would have any questions or would like to make a reservation.
Please share your thoughts and experiences with us in the comments below.