Thinking about where to go on your next dive trip? Are you looking for a once in a lifetime scuba diving experience?
Ever thought about Yap and Palau?
These two western Micronesian islands together offer the best diving in the Western Pacific. Both have stunning natural beauty, fabulous coral gardens and guaranteed encounters with big ocean marine life like sharks and manta rays.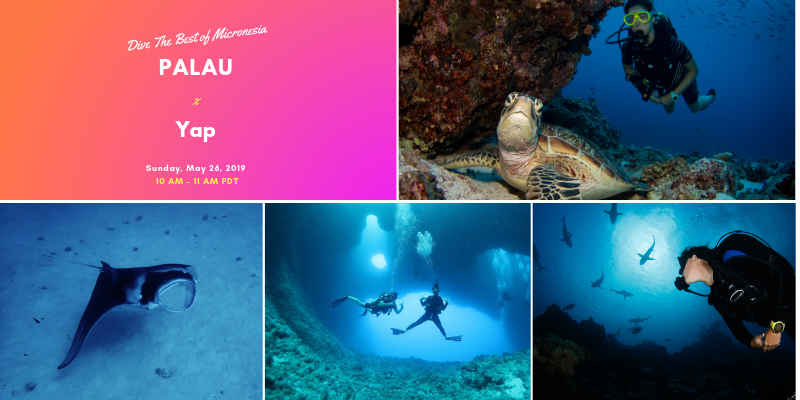 Palau is one of the world's underwater wonders and Yap is both the most culturally intact isle in the region and a worthy diving and snorkeling mecca in its own right.

Two Islands, two marine sanctuaries, two dive experiences in one trip.

Explore Palau's iconic dive sites and exclusive reef diving Yap offers.
Palau has it all; big schools of fish, sharks, healthy reefs, WW II wrecks, and world-famous Blue Corner.

Yap has year-round Manta's but has so much more to offer. Healthy reefs, great macro, sharks, mandarin fish, and caverns just to mention a few of Yap's highlights.

Palau and Yap boast a staggering variety of things to do, sites to see, and cuisine to indulge in. Experience eco kayak tours, hiking, cultural tours, land tours, deep sea fishing, traditional sailing canoe trips, and an in-house spa.

We know that before you commit to an epic trip like this, you've probably got questions. . .

Well, we've got all the answers, and we're sharing them with you on a free, LIVE webinar on May 26th, 2019 10 AM PST (LA time)

Who: Chris Lubba (Chief Amazement Officer at Palau Dive Adventures) & Brad Holland Freelance Writer/Photographer at Manta Ray Bay Resort & Yap Divers and you!
What: FREE, live webinar featuring top secrets and expert tips for exploring Yap & Palau.
Why: Because you've always wanted to do that once in a lifetime bucket list dive trip. We will tell you everything you need to know to plan the Epic, Affordable, and Stress-Free trip that you've been dreaming of.
Where: The sofa or coffee shop of your choice.
When: May 26th 2019 10 AM PST

Chris and Brad will go over what makes these Islands so special.
They will share their first-hand experiences based on the numerous times they visited and dived around Yap and Palau.

They will answer all your questions and will explain exactly what to expect, how to get the best deals on airfare and hotels, the best travel times, and more!

But that's not all…
as a bonus, you'll also have the opportunity to be treated like a "rock star" and claim an exclusive dive package only available on our webinars.

So go NOW and save your spot for the webinar.

Seats fill up quickly, and we've had to turn away 100+ people on our last webinar. Don't be that person! Secure your seat today