One of the questions we get asked by divers all the time is: "Should I dive Palau from a land-based dive shop or should I go for a liveaboard? What is better?" The truth is both are great, and which option is better for you depends on your very own wants and needs. What do you want to do on your holiday? What is your budget? Do you just want to dive or do other things, too? Enjoy the culture and maybe get a bit of sightseeing done?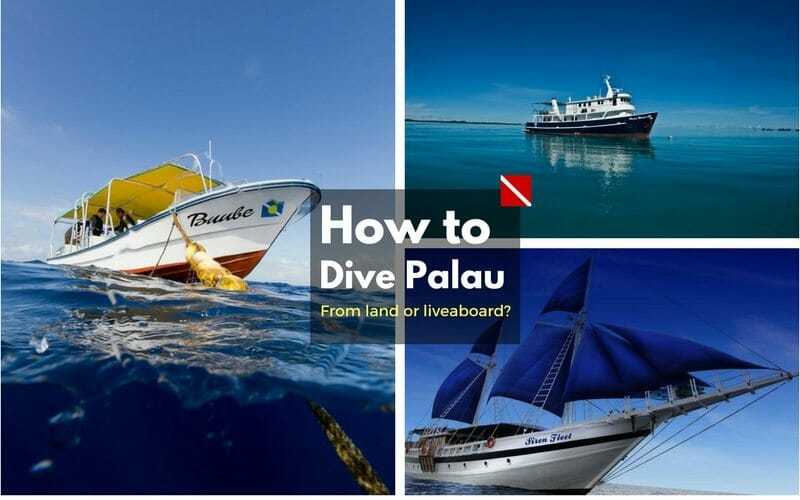 This article aims at providing you with all the relevant information to make an informed choice of what is best for your Palau diving holiday. Palau liveaboard or land based diving?
We will go over some of the differences in each operation from a Palau perspective.
Table of contents
1. Advantages of Palau liveaboard diving
2. Overview of Palau liveaboard providers
3. Disadvantages of Palau liveaboard diving
4. Advantages Palau land based diving
Advantages of Palau liveaboard diving
Around the world, liveaboard fans will try to convince you the best dive sites are the ones visited by liveaboards. Liveaboards are also occasionally referred to as dive safaris. These divers will tell you about destinations like the Great Barrier Reef and the Coral Sea's Osprey Reef or even the northern islands of the Galapagos Archipelago.
And of course, also Palau is a beautiful liveaboard destination and is also often favored by (experienced) liveaboard divers. The dive sites around Palau are known to be the best in the world, drawing divers that want a dive experience that is unique and meaningful, but that is also pristine.
If you ask a diver who has been on a liveaboard trip before what is the best thing about liveaboards, you will get an answer that focuses on the breathtaking diving, the comradeship with the other divers and the attention to detail. While this might be a very generic answer, that also holds true for the land based diving in Palau, it's attraction is nevertheless not to be underestimated, especially, if the focus of your holiday in Palau is on diving and nothing else.
One advantage of the Palau liveaboard is the number of scheduled dives per 5 diving days. While the actual number might vary from provider to provider and liveaboard to liveaboard, it usually is around 18 – 25 dives, which is a lot. The great thing about this is you can pick the dives you really want to do, and leave some others out… not everybody wants to do 4-5 dives a day, but of course, it is great to have the option!
Another advantage of the liveaboard is the quality of the diving staff and the convenience of having your gear waiting for you each day. You basically stumble out of bed and into the beautiful underwater world.
Diving from a liveaboard is very convenient since you will actually sometimes spend the night on the place you will be diving in the morning, or not too far away from it. So with a bit of luck and no other liveaboards around, you might be the first in the water, which can make for the best dives! Also, your camera and gear are ready waiting for you, and there is not schlepping it around from the dive center to the dive boat.
If you are in Palau for diving and underwater photography, and all you want to do is dive, dive, dive, or better:  If you want to eat, sleep, dive and repeat the Palau liveaboard is the way to go.
Overview of Palau Liveaboard Providers
The liveaboards that sail from Palau, either year-round or seasonally, are all top notch, no doubt about that. Many of the fleets have a vessel representing them sailing from Koror. The locally owned and operated liveaboards are also first class and on par with the international competition and do provide a more than reasonable level of comfort.
Amongst the favorite Palau liveaboards are the following safari boats:
1. Palau Aggressor II
The Palau Aggressor II is a 32 m vessel that caters to up to 18 divers. The boat features nine comfortable double rooms with en-suite bathroom and individual climate control. It also has a spacious sundeck and air-conditioned lounge, where you can hang out between dives, have your meals, etc., and a separate camera room with tables and charging points. The food on board is a mix of American and local cuisine.
You will be diving from a separate skiff, and the Palau Aggressor II offers up to five dives a day, including spectacular night dives. A 8 days/7 nights trip with around 25 dive starts at around 2590 USD. Rental equipment is not included in this price.
2. Palau Ocean Hunter III
The Palau Ocean Hunter III is a 29-m vessel that caters to up to 16 divers. It has eight air-conditioned double rooms with bathrooms. Facilities for underwater photographers on board are state-of-the-art, and the gear room has large tables and more than enough outlets for charging batteries. You will be diving from a spacious diving platform at the back of the boat. The Palau Ocean Hunter III offers up to five dives a day, including a night dive.
An 8 days/7 nights trip with around 20 dives starts at around 3050 USD. Rental equipment is not included in this price.
3. Palau Siren
The Palau Siren is a 40-m long sailing yacht that caters to up to 16 divers. The eight air-conditioned double rooms with bathrooms are also equipped with an entertainment system. Meals are served buffet- style in the large covered outdoor dining area. There is also a spacious sundeck with loungers. The main lounge features fully equipped video and camera station with electrical outlets for charging. You will be diving from a shaded dive deck with personal storage lockers.
An 8 days/7 nights trip with around 18 dives starts at around 3450 USD.
A 11 days/ 10 nights trip with around 27 dives starts at around 4250 USD. Nitrox is available for free. Rental equipment is not included in this price.
4. Tropic Dancer Palau
The Tropic Dancer is a 35 m long vessel with nine spacious cabins with double beds and a bunk bed above, as well as an en-suite bathroom.
A 7 days/ 6 nights trip with 4 to 5 dives a day, including night dives, starts at around 2500 USD.
This is just a small but very popular selection, of all the liveaboards available in Palau. If you're having trouble in deciding, maybe refer to the Palau liveaboard reviews and see what other people have to say about these safari boats.
Disadvantages of Palau liveaboards
As great as a liveaboard might sound to you, they also have their drawbacks, and you should definitely be aware of them, before deciding, whether your Palau diving holiday should be land-based or from a liveaboard.
You will actually spend a lot of time on a boat without being able to get off. Sounds obvious, but it also has its implications. Just imagine you find yourself on board with a group of people you don't particularity care for. Experience has proven, that sometimes one idiot can spoil a whole trip.
While many of the liveaboards have outstanding chefs creating amazing meals, you cannot actually go off and have a pizza and a beer. Your choices are limited to the one or two items on the menu or buffet. And believe me, it is very, very important to have a good chef on board.
The cabins onboard might be well-equipped and comfortable, but nevertheless, they are relatively small, which is probably ok, as you will likely not spend too much time in them anyway. But you can't stretch your legs with a walk to the beach or downtown if you want a change of scenery. Storage space in your cabin is limited, so please keep this in mind when packing for your liveaboard.
"Some divers find the liveaboards' fixed itinerary a drawback
On your liveaboard, the itinerary and its dives are pretty fixed, which can be a drawback, especially, when weather conditions are less than favorable. You might end up diving a site that is on the list for that day, although the conditions are not exactly great for it.
Bad weather and a stormy sea make for bad liveaboard conditions, especially if you are prone to seasickness. Please remember to pack seasickness medication or ask your divemaster on time for it. The other thing is the number of divers released into the water at the same time at each dive site. In general, a liveaboard caters to up to 16 – 18 divers, that will all be released into the water pretty much the same time, which can make for a crowded dive site.
The promotional material will boast that you can dive four and sometimes five dives a day. Most divers might be able to do that many dives for one or two days but can you keep it up for a week and do you want to? Will your dive computer let you? And your ears?
While a larger number of dives is offered on the Palau liveaboards, be careful not to overdo it in the first couple of days and instead make sure to save some energy for the coming days. You wouldn't want to deal with ear trouble a couple of days into your diving package, especially because there is not much else to do if you have to stay out of the water and you can normally not get off the boat.
Also read: Laidback Koror Not Your Typical Tourist Destination
Advantages of Palau land based diving
Land-based diving is definitely a great option in Palau. All dive sites in Palau are accessible via a day boat, and on a beautiful sunny day, a ride through the world-famous rock islands of Palau is just fantastic. The number of dives you do in five days is obviously a little lower than when diving from a liveaboard, but you still get to do around 13 dives over 5 days, including all the highlights you get to see on a liveaboard.
There is one thing about Palau as a liveaboard destination that separates it from the other great liveaboard destinations, and that is you do not need a liveaboard to reach the best dive sites.
While the liveaboards are following a more or less circular pattern and are less flexible when it comes to choosing the perfect dive site for the weather conditions each day, the thrilling same dive sites they dive can easily be reached by daily boat without staying out each night. That is our biggest advantage. We can offer "The liveaboard lifestyle on the water by day and Palauan hospitality on land at night." This way you get to enjoy the real local culture, and this is something you just cannot do on a liveaboard.
Is the weather bad one day, isn't it nice that you can breach it out in the comfort of your nice, cozy hotel room or at the café, bar and restaurant of your choice, instead of a crazily rocking boat?
This is what a schedule would look like if you chose to dive land based
Our weekly Palau dive packages, start on Mondays, are limited to ten divers only with one dive guide for every 5 divers. The small group size and custom itineraries are something the liveaboards cannot do unless you charter the entire vessel. It will include three days of three dives each and two days with two dives plus an added (land based) activity. These activities include a visit to the Rock Islands and a visit to Peleliu Island. 
The weather/marine forecast, the dive guide's experience and each diver's skill level, interest and desires are used to develop the dive plan for the week. Like this, we optimize your diving experience as you will visit the most suitable dive site for the day, giving you the best holiday diving experience, instead of diving the dive site that is on the itinerary, sometimes even in less favorable conditions, as is often the case with the liveaboards.
The comradeship that the liveaboards divers experience is matched or exceeded in our dive week. A small group of passionate divers sharing the same experience will bond while underwater, during the surface intervals and the travel time to the dive sites and might even meet up in the evenings for a couple of beers at the bar or restaurant of their choice… the good thing is, if you do not care for them, you do not have to spend the evenings with them.
New divers will not feel left out, and our dive guides will help them become better divers. Between dives, the crew will swap out your tanks and prepare your equipment for the next dive while you enjoy the surface interval and lunch or a snack.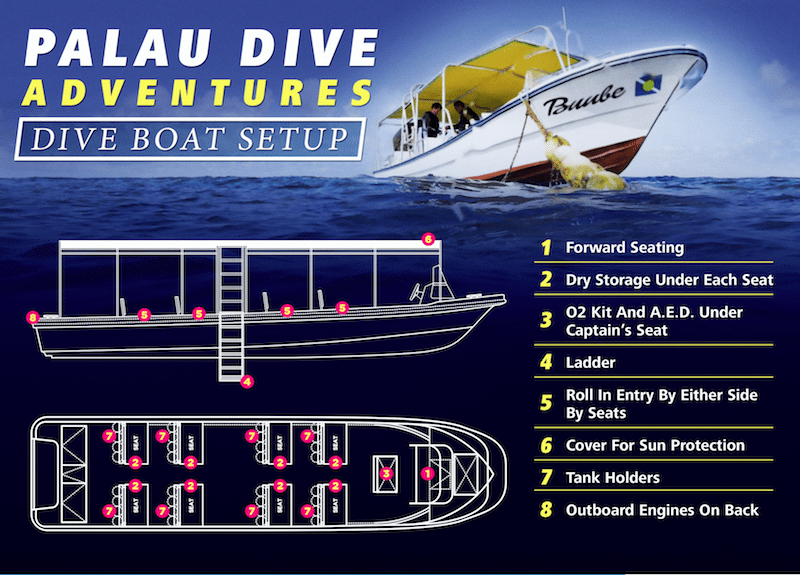 Our "Valet service" service starts when we pick you up from your accommodation at the beginning of the week until your departure at the end of the week.
Each morning, your gear will be taken to the dive boat before your arrival. At the end of the day, your equipment will be taken from the boat, cleaned, dried and securely stored until the next day.
The combination of a weekly based service, small groups and the "Valet service" has another benefit to our divers compared to other land-based dive centers and even liveaboards.
You are not going to be delayed by a new diver joining your group showing up when the boat is ready to depart, but who still needs his rental gear. It is ten people getting on the vessel at a set time and leaving, simple as that. At some of the hotels, we can even pick you up at the hotel's pier.
Also read: 10 Amazing Palau Points of Interest You Should Visit When On Palau
Most of the boats that head out for a day of diving in Palau (and even the runabouts the liveaboards use) are all very similar. Twenty-eight to thirty-five feet (8-10 m) in length, twin outboards, canvas top for sun protection, and some type of bench seating for the divers. This is the general configuration in Palau, and it works well. The boats cruise around 23-27 knots, and it takes approximately 45 minutes to reach the main dive sites.
Our entire operation is based on service and this service extends well beyond being on board our boat. It starts when you first contact us and is there any time you have a question, whether, about our boat or our Palau, we are there to help.
On a liveaboard, your accommodation choices are limited to the bed and cabin configuration. While you are free to choose your accommodation and select our standard dive plan, we made arrangements with carefully selected hotels to provide seven-night accommodations packages, from which you can pick your favorite.
Our 5 day dive packages allow you to choose a:
The comfort level and luxury level include breakfast while all of our packages include lunch and snacks while diving. The comfort level and luxury level include breakfast while all of our packages include lunch and snacks while diving.
If you are looking for a diving only and you will arrange your accommodation yourself, our signature dive package is your best choice.
Another point for you to consider is the cost. Liveaboards are quite expensive to operate, and that is passed on to the customer. Compare our prices to the liveaboards, and you will find we are about half the cost. If you want to spend what the average liveaboards cost, no problem just dive with us for two weeks instead of one week on a liveaboard.
"Eventually, all of us will end up diving off a boat at some point."
Whether a liveaboard or one of our land based dive packages is the best option for you, is something you need to decide for yourself. In the end diving in Palau will be an amazing experience, whether you dive from a liveaboard or from a "day boat". It will make a lasting impression, and whatever option you chose, you will experience great dives with some of the best reefs and wrecks Micronesia has to offer.
Please feel free to contact us directly if you would have any questions. We love to hear from you.