New Drop Off has been likened to a mini Blue Corner and is increasingly becoming more popular on the must-see dive lists of divers visiting Palau. Ngemelis island where New Drop Off can be found is covered with good dive sites like Turtle Wall, but it is New Drop Off's distinct plateau formation that brings the variety. Gray Reef sharks case the west wall and the plateau.
Meanwhile schooling Blue Stripe Snappers, Black Snapper, Napolean Wrasse, barracuda and Emperor Angelfish hang out and patrol their turf.
Minimum/ Maximum Depth: Minimum 3 feet (1meter); Maximum: very deep; Plateau 3 feet to 55 feet ( 1- 17 meters)
Suitable for: Novices (when no current) up to Experienced/Advanced Divers only (when strong current)
Location: 27 miles (43 kilometers) southwest of Koror
Time/Distance from PDA: 45-50 minutes by speedboat
Divers drop in on either side of the reef wall and drift down towards the distinct corner and potentially hook in and watch sea life just stroll on by. It's not uncommon to drop in and see a couple dozen sharks cruise by in the depths below and then come up on the plateau and see a few dozen more just hanging around.
What will you see when scuba diving New Drop Off?
Green and Hawksbill Turtles often frequent all along the wall spanning Ngemelis Island, especially near the appropriately named Turtle Wall. And even a few Leafy Scorpion fish, moray eels, and colorful nudibranchs have been spotted hiding amidst the large Gorgonian fans and healthy soft corals hanging onto the reef.
Occasionally a few Spotted Eagle Rays may even cruise by on their way to somewhere. And it's up on the plateau where the two reef walls meet that it all comes together. School seems to be in session for all types of marine life. Divers have a hay day photographing Sergeant Major's, Yellowtail Fusiliers, barracuda, and emperor fish of all varieties hiding in and around the very large sea fans.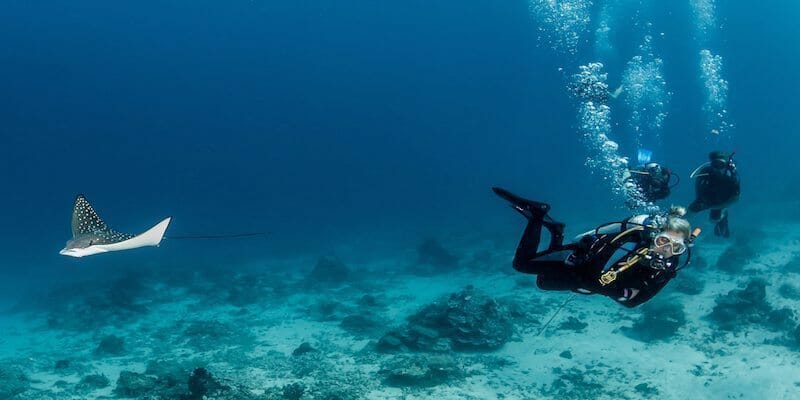 Do not leave Palau before you dived New Drop Off
Add New Drop Off to your "must see dive list" of scuba dive sites in Palau and experience a thriving reef wall, healthy and beautiful with color.
Remember the visitors that stroll by, might be fascinating and quick, but it's here at New Drop Off that the little creatures lurking in the cracks and crevasses can prove to be the crowd-pleasers on this dive.
Stick close to your guide and see if they can point out the little stuff, but be sure to look out in the blue and up, down and around for the action swimming by.