How Scuba Diving Palau Changed John Gelrud's life?
John originally came to Palau in December of 2013. His experience diving with the sharks, mantas and people of Palau  inspired him to go back home to the cold waters of California and work diligently at becoming not just a Divemaster , but an Instructor so he can return to work in Palau full-time.
He is so committed to making his dreams come true that in 4 short months he has already completed his Divemaster and will have become an Instructor after 6 months, all the while working full-time at his present job. We at Palau Dive Adventures will gladly welcome back him back to Palau to pick up where he left off! In an interview with our very own Kelli Bartel, find out what inspired John so much to finally go after his lifelong dream!
Why did you originally chose to go to Palau?
I regularly read dive magazines and noticed a few places always showed up on the top dive spots in the world. Palau was always on everyone's list so it made its way onto my dive spot "bucket list". While on a Great White Shark dive in August 2013 the opportunity presented itself and I committed.
 So, you like to dive the best then do you? Where else have you dived?
Lots of places like:
Aruba
the Caymans
Jamaica
the Bahamas
Florida (keys, gulf and freshwater)
Mexico, Cancun/Cozumel, as well as,  the We;stern Riviera from Acapulco to Cabo San Lucas.
All the Hawaiian islands and Fiji
I even dive the cold waters of California where I live 🙂
And after all those other places you've been to how did Palau compare?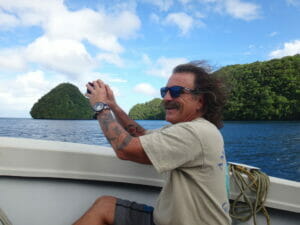 Palau was the BEST! No comparison. Not even a close call. It was the best diving easily plus the beauty and experience was way beyond my expectations. Diving is more than going underwater to me. It's an experience. My personal motto is there are no bad dives, some are just better than others. During my first dive of 50 minutes we saw a half dozen sharks, 4 huge mantas and some of the most beautiful coral in the world. I remember my first words were, "Holy crap! How can it get any better"?
It did!  From the Blue Corner and the "mayor" to the strangeness of Jellyfish Lake, I was continually amazed. And the company you dive with and the people on the boat make a huge difference. If the planned site was not the best place to dive that day, they found one. Never disappointed in the sites chosen. The staff was so friendly and helpful it just made everything perfect.
They did not overload the boat and the other divers were a lot of fun. I am Facebook friends with all of them. That's what's happens when everything is done right.
So good for you in fact, it has inspired you even after your vacation. Is that true?
Yes. I had always "dreamed" of being a dive instructor, initially as a "retirement" job. When I went to Palau it inspired me to quit dreaming and take action. Since returning I have become a Divemaster and will be taking the Instructor Exam in June. My dream is now my reality.
Congratulations on completing your DM! That must've been some vacation! Now what?
Now I take the instructors exam. I have a great group of instructors in California who are preparing me and am confident I will pass. After that, I plan to return to my source of inspiration: Palau! And start a new career and new life in the most beautiful place on Earth.
When are you returning to Palau and what are your hopes once you see Paradise again?
I plan to return in the fall. My goal is to stay and work as an instructor. I can't think of a better job in a better place. I am ready for a change and I think have a lot to offer with my experience and understanding of divers expectations. I would love to come back to Palau Dive Adventures and help people have the same fantastic life changing experience I was given.
And we at Palau Dive Adventures will be happy to welcome you back, show you more of the splendors of Palau and be there for whatever you need! Congratulations again and welcome to the Palau Dive Adventures family, John! Would you like scuba dive Palau with us?
Click here to contact us directly if you would have any questions or would like to book a scuba dive package with us.