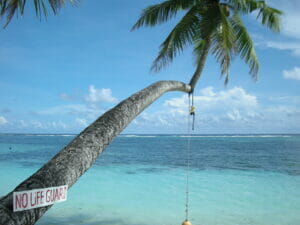 Palau is best known as one of the best dive spots in the world. However, there are many other things to do in Palau. In this post we will cover our favorite non-diving things to do in Palau.If you just want to relax, barbecue, swim, snorkel, lay in a hammock, and enjoy a nice quiet beach, we head to "North Beach Cottages." The cottages are about an hour drive north from downtown.
"We like it because it is very quiet there, lots of trees that offer up shade, and the kids can wear themselves out in the water," says Jason Owner of Palau Dive Adventures. "It is a really nice family and friends day for us." If you're a tourist in Palau and you want to do more than just relax at the cottages, we highly recommend the Jungle River Boat Cruise which can be either a half day tour or full day. Another great option is a full day kayak tour.
The jungle river tour company will pick you up at your hotel and take you north to the capital of Palau and their boat. Along the way the guide will point out the flora and fauna of Palau, stopping wherever you like to take photos. Once at the capital they will show you around. A short drive from the capital and we are at the Jungle River Cruise. It is a nice area they have carved out of the jungle. It is a ten minute walk down a beautiful path to the boat.
Kayaking in Palau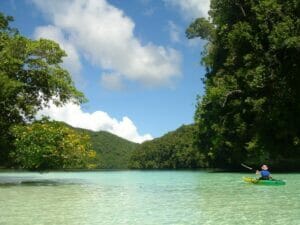 Along the way they have labeled the flora and the guide will point things out along the way. The boat ride itself is amazing through the mangroves, and observing how people here can live off the land and ocean. If you keep your eyes peeled you may even see a crocodile. This is a great half day tour, if you would like to paddle your own kayak, read on.
Kayaking in Palau is world class. We recommend kayaking with Sams Tour. The guides are great and very knowledgeable. They have several different trips you can do. It all depends on the tide as to where they are able to go. Best to go talk to them and see if they have a trip that day. They load the kayaks on the boat and take a short drive to the kayak spot. All kayak trips include tons of great snorkeling and paddling through the world-renowned Rock Islands of Palau.
These are just some of the things to do in Palau other than dive. We love them all! Sometimes it takes more than one trip to Palau to enjoy all there in this tropical paradise.
Click here to Contact us directly if you would have any questions.
Photo Credit: ecotist &  Jim Caldwell