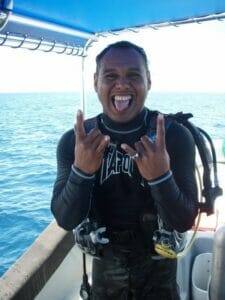 Jason is our local expert dive guide. He has memorized all dive sites and instinctively knows and understands the currents and the weather. Born on the island of Ulithi, an atoll of the outer islands of Yap. Jason moved to Saipan to attend college and earned his AA degree in liberal arts. Shortly after that, Jason moved to Palau to further his studies.
While attending college in Palau to receive his degree in hospitality and tourism, Jason discovered diving, since it is the main attraction for visitors to Palau and it was a college requirement for graduation that he becomes a divemaster. Once he took his first dive, he was enchanted with the marvels of the ocean. He worked at Sams Tours as an intern dive master, while bartending at Bottom Time Grill to pay for his school.
Soon after completing college, Jason left bartending and went to work full-time in guiding in 2001. Jason has worked for several dive companies where he logged thousands of dives and guided guests to sites such as Ulong Island, Blue Corner, Peleliu, and other well-known dive sites here in Palau. Jason has dived the depths surrounding Palau and swum with sharks, manta rays, barracuda, jellyfish, dolphins and more.
As co-owner of Palau Dive Adventures, Jason would like to showcase Palau and its beauty to divers from around the world. We are sure that Jason with his charming personality and local expertise will give you a trip you are not soon to forget.
>> Click here to contact us directly if you would have any questions or would like to make a reservation.