Blue Corner Palau is one of the most action-packed scuba dive sites in the world and up to 13 different species of sharks circling just beyond the plummeting reef wall.
• Minimum/ Maximum Depth: 25 feet (8 meters) to 90+feet (30+ meters); Plateau at 45-60 feet(15-20meters)
• Suitable for: Novices (when no current) up to Experienced/Advanced Divers only (when strong current)
• Location: 25 miles SW of Koror, Northwest end of Ngemelis Island
• Time/Distance from PDA: 50-70 minutes by speedboat
What to see when diving Blue Corner Palau?
You can drop in at one marker buoy along the wall and drop down to 80-90 feet to see a large variety of small gorgonian fans and other formations. Or drop in at 60-90 feet on the eastern reef wall and see a cavern at 75 feet.
At 55 feet on the edge of the plateau just in front of the plummeting wall, you typically hook in to view the show bustling around you. Sharks, Turtles, Anthias, butterflyfish, and the ever-popular Napoleon wrasse cruise by in the swift currents for a friendly visit.
The currents can change in any given moment, and they can move in any direction (up, down, sideways) in all conditions diving Blue Corner Palau is considered a drift dive.
When the currents are right it's game on at Blue Corner
With visibility ranging from 45-60 feet on an outgoing tide to 90+ feet on an incoming tide, it is typical to spot all the action coming at you from all around on any given day.
Because of the strong currents at Blue corner is the perfect place to use your reef hook. The reef hook (invented in Palau) is used to keep you safe in one place and to reduce your air consumption, exertion and ultimately to save the reefs from damaging.
When hooked in it's like standing in the wind and letting the breeze flow over you. Meanwhile, as you relax and stay still the more the action creeps closer and glides along in the currents formed along the reef wall.
Read more about: 5 Reasons to Use a Reef Hook When Diving in Palau [Infographic]
Blue Corner Palau is where the magic happens
And on an ideal day, the best visibility can be found during an incoming tide and a so-called outgoing current, when you can easily drop in at the majestic dive site Blue Holes and drift all the way down to Blue Corner where you "hook in" in time for a show.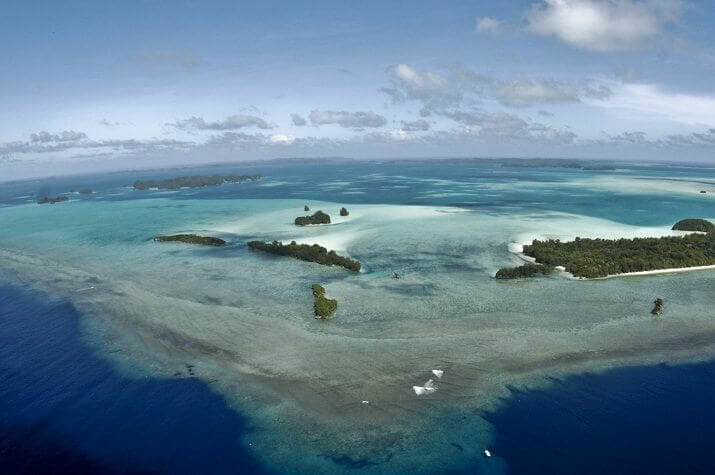 During the incoming tide, clear water coming from the open ocean brings better visibility along the reefs and inside the lagoon. When this happens the current turns hits the reef wall and forces water up and over the plateau bringing loads of plankton, algae and clear beautiful water.
Once hooked in look up and view the main attraction out over the reef wall, you will see the different shark species and snappers gliding by in the current. Eventually, unhook and glide over the reef spotting sleeping sharks and beautiful coral formations.
Schooling trevally and barracuda linger not too far off the reef and typically complete the show by circling overhead during the safety stop and bidding adieu till the next time.
P.S. If you're dying to come to Palau for the first time but have no idea how to pull it all together, give us a call at our U.S. office (310 321-2558), or contact us directly via Facebook Messenger in 1 click and we'll help you figure it out. Sometimes getting clear, informed answers makes all the difference!